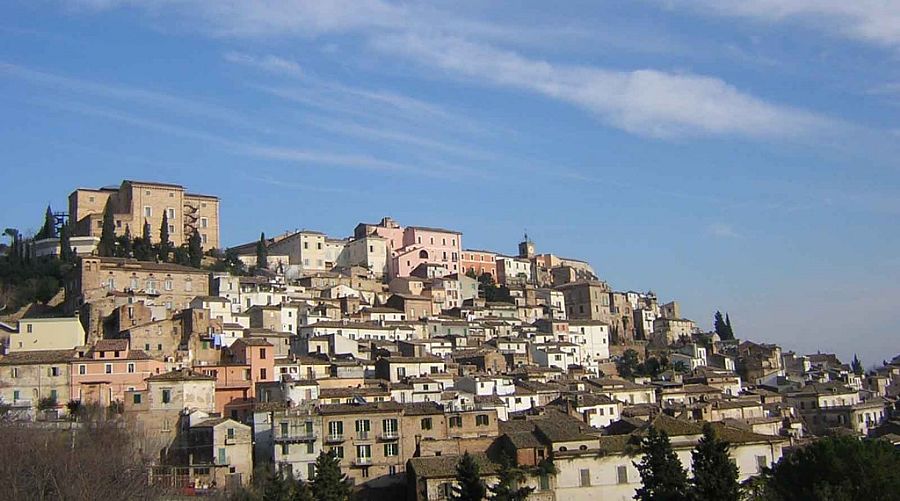 A gem of a town on a hill above Pescara, Citta Sant'Angelo is worth a day trip to visit. It was listed by Forbes as one of the best places to live (2018) but its designations as one of the borghi piu' belli d'Italia (most beautiful small towns in Italy), as Citta' Slow (like the Slow Food movement), city of wine and city of oil, all mean that it is a wonderful place to visit, too. Sitting on a hilltop between the sea and the mountains, the panoramas in every direction are inspiring.
Located just a half-hour from Pescara, it sits a world away nestled in beauty among the vine- and olive-studded hills. It retains its Old World ambiance, traditions and hospitality, along with attractive corners and monuments around the cobbled streets. The church of San Michele was built by the Lombards in the 1200s but renovated several times. It's just lovely, and has paintings by Abruzzo and Marche artists. The small triangular church of Santa Chiara is a baroque jewelry box topped by an airy cupol, which is distinctive on Citta' Sant'Angelo's skyline. Inside is also a Place of Remembrance to commemorate the citizens' partisan efforts; there had been an internment camp here for political dissidents against the Fascist regime. Many of the Angolani, however, took persecuted people and fugitives into their homes to hide them. The city was awarded the Silver Medal of Merit for their collective acts of bravery. The former convent that was attached to it has been put to as the Museo-Laboratorio d'Arte Contemporanea, a modern art workshop-museum. The former Franciscan monastery now houses the town hall, and its cloister and garden are special quiet places to enjoy. There are 12 churches in this small city, though.
Wander around and take it all in. A few things to look out for: the Strada del Ghetto, a long street in the Casale disctrict that had been designated where the Jewish population be segregated in 1427 by Queen Giovanna II, it's a charming quarter now. The Cisternone is the underground barrel-vaulted water cistern system below the city gardens; and the remains of the castle up at the top of the town. All along, you will find some cafes, pubs and restaurants, and friendly folks proud of their pretty town.
Been there? Done that? Share your experience and tips!
Haven't visited yet? Have questions about Citta' Sant'Angelo? Ask them here!