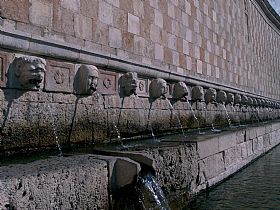 What was once Abruzzo's principle art city and a rather cosmopolitan place is now famous as the city rocked by a massive earthquake in 2009. The grandeur is gone but is slowly being rebuilt, and some of the importance historic sites can be seen. While a visit to L'Aquila might not be what it used to be in terms of tourist sights, it does give a view of the incredible force of nature and what can happen in an instant to a nearly millennium-old city when an earthquake strikes.
Surrounded by medieval walls as well as by the beautiful Gran Sasso National Park, L'Aquila is only an hour and a half from Rome but a world away in the snow-capped peaks of the Apennine mountains. It was founded by Frederick II, the Holy Roman Emperor and King of Sicily, and became the "second city" of the Kingdom of Naples during its heyday. Charles I of Anjoy constructed the walls in 1316. L'Aquila prospered by its political position, as well as from the important wool trade and its natural resources. It became a beautiful city with palaces, monuments and bustling piazzas. Some of that beauty can still be glimplsed.
The Spanish Fortezza was built in 1534 and houses the National Museum of Abruzzo (closed at the moment). A park surrounds it, and one glance at the fortress shows clearly its Spanish origins, as it resembles closely other strongholds built by the crown (for instance, San Juan Puerto Rico). The Fountain of 99 Spouts, also known as Fontana della Rivera) has been restored and is viewable, a unique masterpiece. Santa Maria del Collemaggio is the crowning jewel on top of town surrounded by a park. While damaged, the original facade of the Romanesque-Gothic structure is still visible with its intricate design in pink and white stone, belying a Moorish influence. It was the original location of the Papal Jubilee.
The city of L'Aquila has a list of sights that are open and viewable, and a path to follow to see L'Aquila in its current condition. It can be downloaded in PDF format from this page on the city's website. (Click the line that says 'percorsi'.)
Been there? Done that? Share your experience and tips!
Haven't visited yet? Have questions about L'Aquila? Ask them here!
Explore nearby towns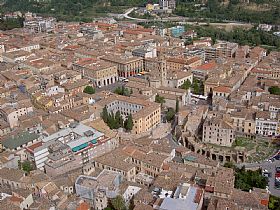 A Roman city that blossomed into a medieval hub, Teramo rests in northern Abruzzo below the Apennine mountains.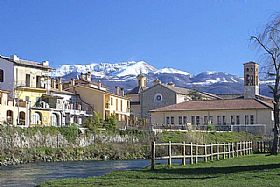 The ancient city of Rieti dates back to many millennia prior to the Romans.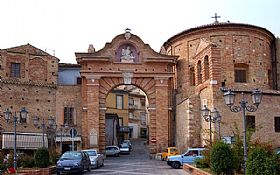 In central Abruzzo, not far from the coastal city of Pescara, is the gem of a town called Penne.