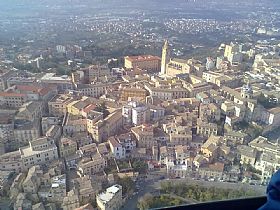 In central Abruzzo, inland from Pescara, is the provincial capital city of Chieti (pronounced kee-yay-tee). In a pretty hilltop setting below Mt. Maiella and above the Sangro Valley, the city's history goes back to before the Roman era. Its surrounding area enjoys the pleasures of wooded mountains, rolling hills and cove-marked coastline. The Romans left a significant mark, still seen in the city gate, Porta Pescara, and the remains of the Templi Romani, theater and bath complex complete with beautiful mosaics, right in the heart of the city.
Chieti is lively with festivals and concerts, and the historic center is adorned with arcades, palace-lined streets and spacious piazzas to enjoy. There is an active theater for shows, and plenty of cafes and shops. One of the city's main attractions is its cathedral dedicated to San Giustino, an early bishop of Chieti. The Gothic-style church has three naves, a barrel vault and a soaring dome. The column-studded crypt is done in Baroque style, and there is a 16th century bell tower that is one of the city's landmarks. The National Archeology Museum is housed in a neoclassic villa and holds the famous Guerriero di Capestrano, an Italic (pre-Roman) sculpture, along with other Italic/Abruzzi artifacts, sculptures, a scientific-based anthropology section, and a large collection of coins from the 4th century BC through the 19th century. The Museo d'Arte is housed inside the noble Palazzo Martinelli-Bianchi and has a vast art collection from the 14th through the 18th centuries.
One of the more colorful festas is the Infiorata, when the streets get carpeted in decoratively arranged flower petals in honor of Corpus Domini. Don't miss the area's food specialties, that include spaghetti alla chitarra, made on a box outlined with metal strings (resembling guitar strings, hence the name), savory arrosticini (little lamb nuggets on skewers), stuffed roasted rabbit and sweet, chewy torrone nougat candy.
Been there? Done that? Share your experience and tips!
Haven't visited yet? Have questions about Chieti? Ask them here!
Explore nearby towns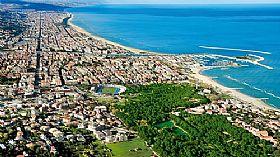 The city of Pescara is Abruzzo's most populous and bustling center.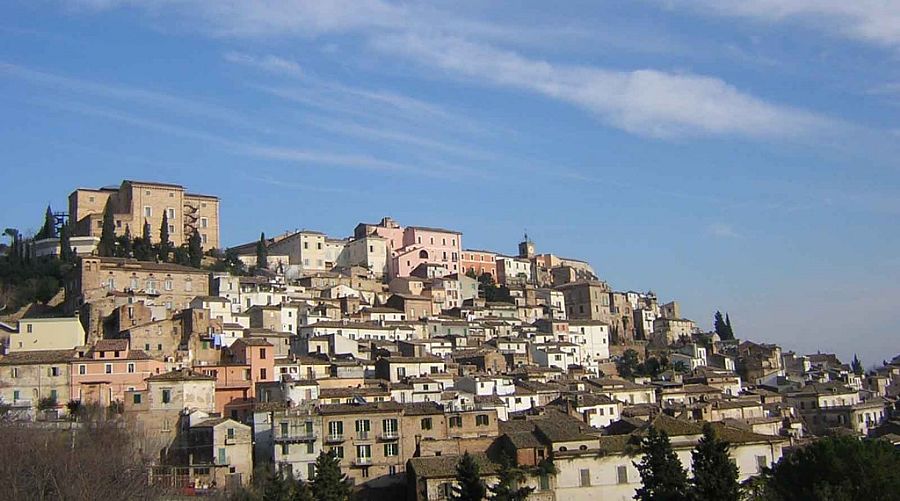 A gem of a town on a hill above Pescara, Citta Sant'Angelo is worth a day trip to visit.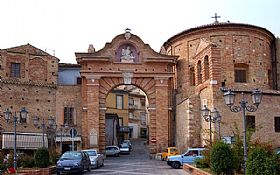 In central Abruzzo, not far from the coastal city of Pescara, is the gem of a town called Penne.