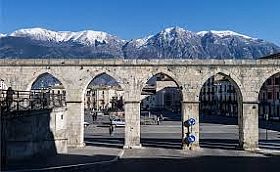 Sulmona is a surprise when you see it for the first time - a lively and upscale town in the middle of Abruzzo. Resting at the foot of Monte Maiella, it is situated in the valley, making it easy to get around without having to huff and puff uphill. The Roman origins of this city are evident in its layout, and it was the birthplace of noted ancient poet Ovid, who was born here in 43 BC. That gives it truly ancient origins, though it was the Middle Ages that left the most impressive mark on Sulmona. Wander around the historic center to see the medieval monuments and buildings, and the Renaissance era palaces that lend a surprisingly sophisticated air to the city.
Sulmona saw a big boost under the reign of Frederick II, who built the aqueduct that is still visible and a symbol of the city in Piazza Garibaldi, and he made the city a political and judicial center for that part of his empire. Some of the sights include the impressive Palazzo Annunziata, ornately decorated with carvings, which was an orphanage, a hospital and a civic center, now home to the Civic Museum. The neighboring church is likewise adorned and worth seeing. The church of San Francesca della Scarpa is beautiful with its monumental portal, dome and interior circular courtyard. Just a few minutes outside the city is the Abbey Morronese, a walled complex with five courtyards and the abbey church in a country setting.
Sulmona is truly beautiful, with its city gates, Old World atmosphere and lively atmosphere. It's also colorful and sweet, thanks to the confection crafted here, confetti. The sugar-coated almonds have been a part of Italian celebrations for centuries, and it is said that a form of confetti have been made here since the Roman era. You'll see them wrapped up and tucked into beautiful bouquets and fancy shapes.
There is an annual festa that brings a lot of excitement to Sulmona, the Giostra Cavalleresca, a medieval jousting match on horseback in period costumes. Similar to the Palio of Siena, it's a high-energy festival with a city-wide party to go along with it.
Been there? Done that? Share your experience and tips!
Haven't visited yet? Have questions about Sulmona? Ask them here!
Explore nearby towns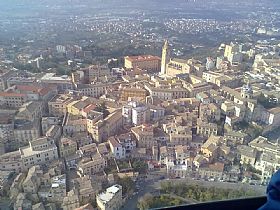 In central Abruzzo, inland from Pescara, is the provincial capital city of Chieti (pronounced kee-yay-tee).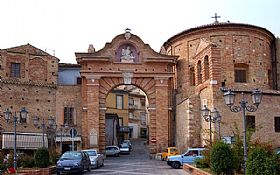 In central Abruzzo, not far from the coastal city of Pescara, is the gem of a town called Penne.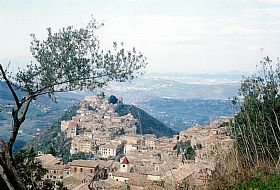 Arpino is high in the hills between Rome and Naples.