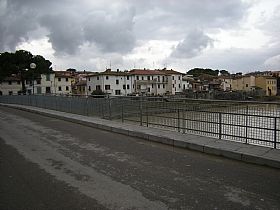 Ponte a Elsa is a singular town divided in two. An administrative anomaly has left Ponte a Elsa with two distinct parts - the half that lies in the jurisdiction of San Miniato in the province of Pisa, and the half that falls under the town of Empoli in the province of Firenze. The residents have been "marked" for centuries by which side of the river they come from as "bianchi" (white, those from San Miniato) or "rossi" (red, those from Empoli).
The town's name comes from its location along the Elsa River and the historic bridge that spanned it - Ponte (bridge) on the Elsa is the literal name. There was once a shrine dedicated to the Madonna in the middle of the bridge marking the dividing point between the two halves. Today, an annual dinner is held there to "bridge the gap" and bring the two sides together.
Ponte a Elsa hosts an annual regalia known as the Palio di San Lazzaro. Dedicated to the town's patron saint, it's held in March and features a colorful parade of participants in period costumes, flag throwers who launch their district's banners high into the air, and competitions of skill to battle it out for the Palio.
The town offers all the basic services, including restaurants, grocery stores, coffee bars and pharmacies, plus other shops. Nearby San Miniato has a well-preserved historic center that includes a 192-meter tall tower built by Frederick II and the Diocesan Museum with masterpieces by famous painters. There are also hopping piazzas and pleasant streets to wander. Ponte a Elsa is between Florence and Livorno, close enough to reach Pisa, Lucca, Siena, Volterra and San Gimignano very easily. It's also just a few minutes from Vinci, the birthplace of Leonardo da Vinci. There are lovely country drives, vineyards for wine tasting, and good restaurants tucked into the countryside.
Been there? Done that? Share your experience and tips!
Haven't visited yet? Have questions about Ponte a Elsa? Ask them here!
Explore nearby towns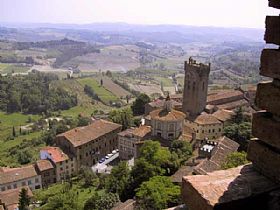 San Miniato is a charming country town rising on top of a gentle hill, close by the city of Pisa.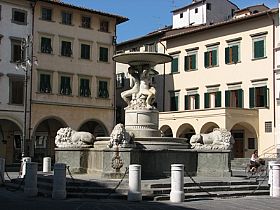 Empoli is a lovely mid-sized town equidistant from the main Tuscan cities.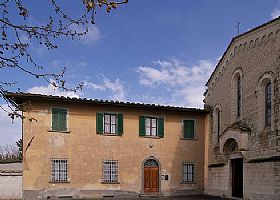 Martignana is a pretty district of Empoli, in the Tuscany region, at about 50 km from the city of Florence.