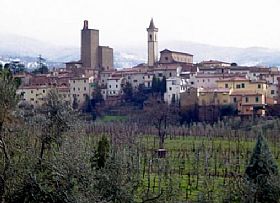 Vinci might have remained a sleepy, hidden Tuscan town if it hadn't been for the birth of a famous son. Leonardo da Vinci- literally "from Vinci" -took the town's name and gave it fame in return. Born on April 15, 1452, Leonardo grew up in this cute, compact village, located between Florence and Pisa. While it dates back to the Etruscan age, it is fully devoted to the genius-artist who is known the world over.
Sitting amidst the hills of Tuscany below the Apennine mountains, the romantic village has tidy, twisting streets and splendid views from its main piazza, overlooking the valley that is dotted with olive groves and striped with grapevines. The singular focus is now entirely on Leonardo and his accomplishments.
Start at the Museo Leonardiano with its full scale models of some of Leonardo's inventions and visionary projections recreated from his detailed notes. You'll find advanced ideas that demonstrate the depths of his genius, modeling everything from bicycles, cars and flying machines to an underwater suit and weaponry well before any of them were developed in the following centuries. Bridges, domed buildings, civic plans, and artistic drawings of the great artist and inventor are all on exhibit, along with interactive displays and computer points for further learning.
The Leonardo Library is across the street, with a full body of manuscripts and drawings by the master. In Piazza della Liberta' is a bronze equestrian statue installed in 1997 by artist Nina Akame, inspired by the many sketches Leonardo did of horses. And just outside town in the tranquil countryside is the little stone house where Leonardo was born.
The Church of Santa Croce is where he was likely baptized, the bell tower stands high and proud over the town. On the summit is the Rocca dei Conti Guidi, a tall stone castle that guarded the hills during the Middle Ages.
Anyone with an interest in inventions, or the art and genius of Leonardo da Vinci should definitely pay a visit to his hometown. It is located west of Florence, and is near Pistoia, Lucca, Siena and Pisa. There are a handful of shops, cafes and restaurants in town. The Leonardiano Museum is open daily from 9:30 am to 7:00 pm.
Been there? Done that? Share your experience and tips!
Haven't visited yet? Have questions about Vinci? Ask them here!
Explore nearby towns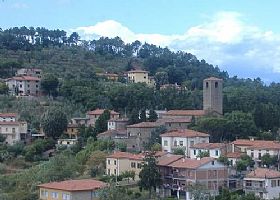 The charming village of Lamporecchio, located nearby the splendid naturalistic complex of Montalbano, offers the perfect balance between nature and culture.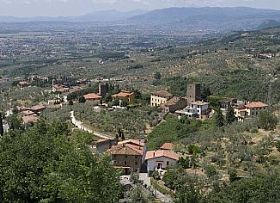 The village of Porciano belongs to the municipality of Lamporecchio, in the province of Pistoia.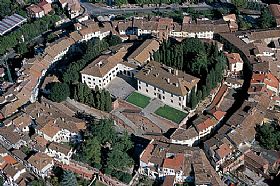 A Renaissance village in the heart of Tuscany's rolling hills, Cerreto Guidi is a little gem.