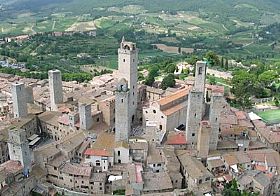 San Gimignano is one of the most famous small towns in Italy. Its hilltop presence is spiked by towers, and its magical atmosphere oozes charm and evokes the spirit of medieval Tuscany. It's considered to be one of Europe's best preserved medieval towns. San Gimignano is seen from all around the surrounding countryside. It has a commanding position on top of a hill overlooking the Val d'Elsa, but it's the town's high towers draw attention to itself. It's hard to miss their tall spires as you approach.
Once bristling with 72 of the medieval version of skyscrapers, it still possesses 17 of them as testimony to the fad of the day to construct higher and more prominent symbols of wealth and power. San Gimignano was an important trading city on the ancient via Francigena. It became an independent city in 1199 and came into its own during the Middle Ages. Its merchants saw great success and built fabulous palaces and enriched the town with extraordinary artwork and interesting architecture. It was named a UNESCO World Heritage Site for its unique character.
Its roots are Etruscan, though the built-up settlement was Hellenic (3rd and 2nd centuries BC). It was caught in the tug-of-war between the Guelfs and Ghibellines and even saw a visit from famous Guelph ambassador, Dante Alighieri in 1300. Unfortunately, San Gimignano suffered devastating effects of the Black Plague that swept through Europe and touched Tuscany, leaving the place practically empty and destitute, thus turning to Florence and submitting itself under its authority for survival.
San Gimignano today is completely enchanting. The narrow cobbled alleys and pretty piazzas make it a very picturesque place that charms visitors and lures them to return again and again. It is still cradled within its ancient protective walls, and every turn brings a panorama or an architectural detail to gaze upon. There are loads of restaurants and cafes to enjoy, and artisan shops for local products. Grab a piazza-side table and enjoy a glass of the local Vernaccia wine while soaking in the antique atmosphere.
The wide Piazza della Cisterna is enclosed by buildings, making it feel intimate despite its size. The old well that provided the town with water still stands in the center. The Romanesque Cathedral bears works by Ghirlandaio, di Bartolo and many more, making it a must-see. The Palazzo Comunale boasts an interior courtyard and frescoes, with works by the likes of Filippo Lippi and Pinturicchio. If you have good knees, climb to the top of the Torre Grossa for unrivaled views over the town and the entire valley and rolling hills of the area. You'll see that sunflower fields spread out below, along with crocus blossoms, form which they extract the area's famous saffron. Vineyards and olive groves cover miles of gentle hills, punctuated by cypress trees and charming stone farmhouses.
The town organizes an annual Medieval Festival by the Cavalieri di Santa Fina (Knights of St. Fina), that puts on an opulently costumed parade, tournaments, and medieval games of skills, along with food, dancing and fun.
It's easy to see the appeal of San Gimignano, dubbed the "city of the beautiful towers". It is located in central Tuscany, near notable towns like Certaldo, Volterra and Monteriggioni, but also close to Siena and Florence. It's definitely worth a visit; but beware - once you've seen it, you'll want to return again!
Been there? Done that? Share your experience and tips!
Haven't visited yet? Have questions about San Gimignano? Ask them here!
Explore nearby towns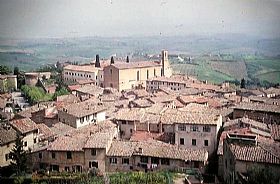 Castel San Gimignano is a charming, miniscule hamlet constructed in brick and set on a hill.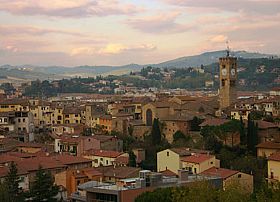 Poggibonsi, in the heart of Valdichiana, is one of the classic Tuscan dream places, rich in culture, art and tradition.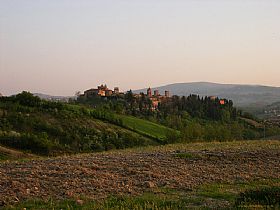 At 50 km from Florence, in the heart of the Valdelsa area, you will find the charming village of Certaldo, whose name derives from the Latin "Cerrus Altus" – rise covered by Turkey oaks.