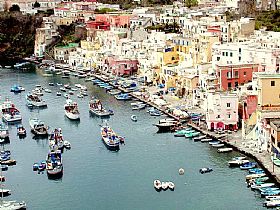 The north-western side of the Gulf of Naples offers the splendour of the small island of Procida, known as "the girlfriend of the sea".
In spite of the volcanic origins, Procida has a level look, with an extremely fascinating coastline which is quite jagged, high and steep. Mantled with a scented joyous rich vegetation, this little peace of land will capture your heart with its almost uncontaminated landscape. The real Mediterranean maquis covers the coast, while the inland territory is intensely cultivated with vineyards and orchards.
Marina Grande with Sancio Cattolico compose the main ward, overlooked by the mighty mass of the castle, with the multicoloured aligned fishermen houses overtopping the wharf.
Marina Grande is the port of call for hydrofoils coming from Naples and the ferryboats connecting the island with Naples, Pozzuoli and Ischia.
You cannot miss the suggestive tour of Procida on board of one of the typical boats: it lasts three hours that you'll never forget, in harness with a simple and traditional environment.
You'll be able to admire splendid panoramas from the lovely terrace in front of the Castle and Punta della Palombara, nearby the notable remains of the Church of St Margherita Vecchia. From the near Bay of Chiaiolella you can reach by boat or just crossing a bridge, the terrific minor island of Vivara, totally covered by a luxuriant vegetation, Vivara has been uninhabited for years but still preserves witnesses of very ancient human presences.
Procida's been dominated by the ancient Greeks and Romans; it got repetitively assaulted from the Saracens and later became part of the Kingdom of Naples. The island boasts an ancient sea shanty tradition: its boats have covered the waters of the whole world, its shipyards have always been well-considered and its man have always distinguished for courage and abilities.
The notable local gastronomy offers a good range of simple dishes fish-based as well as the worthy delicious citrus salad, seasoned with olive oil, pennyroyal and hot chilly pepper.
Procida has a small perimeter of only 4 km, so we strongly suggest to visit this lovely place just walking or cycling.
Been there? Done that? Share your experience and tips!
Haven't visited yet? Have questions about Procida? Ask them here!
Explore nearby towns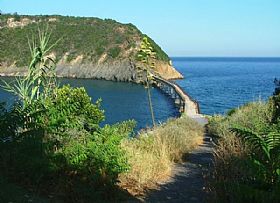 The deserted island of Vivara is like something in a movie.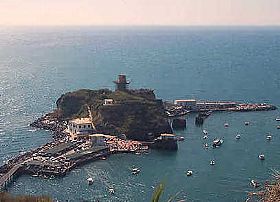 Monte di Procida sits like a beautiful balcony on the tip of the promontory that dips into the Gulf of Naples.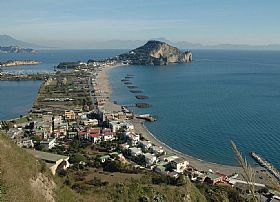 Whoever is fond of sea, myth, history and nature will find Bacoli a great destination.