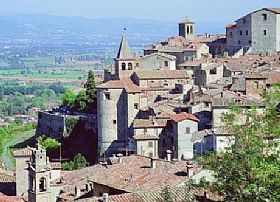 The walled stone town of Anghiari is a beautiful gem in the province of Arezzo, Tuscany. It dominates a hill over the Tiber Valley and maintains its charm and character of the medieval era that saw it prosper. There are spotless piazzas dappled with colors from geraniums and other flowers, winding streets with steps, archways and hidden courtyards. At night, it glows golden in the floodlights that give it a magical appearance. In short, it's a town worth visiting.
Anghiari was made famous because of a battle - the Battle of Anghiari took place in 1440, and the triumph of the Florentines over the Milanese army ensured that central Italy would stay under the control of the Republic of Florence. The battle is commemorated in a magnificent painting by Leonardo da Vinci in the Palazzo Vecchio in Florence.
The true joy of the town is found in wandering the streets, seeing how people live their daily lives, and enjoying the views and flavors that you'll find here. The Piazza Mameli is the heart, with two palaces -the Medieval Palazzo Taglieschi and the Renaissance Palazzo Marzcocco - which today house museums. There are castles, villas and churches scattered about town and the surrounding countryside. Despite its compact size, you'll find more than a dozen restaurants, a host of coffee bars, and more than a few antique shops in Anghiari. No wonder it's been named "uno dei borghi piu' belli d'Italia" (one of the most beautiful villages in Italy), a prestigious designation.
Every year, the town hosts the Palio della Vittoria to commemorate the famous battle, played with historic costumed flag-throwing competitions and a race that garners the winners a lovely hand-painted "palio" (banner). There is also a huge annual Mercato dell'Artigianato every April to showcase the area's arts and crafts.
Been there? Done that? Share your experience and tips!
Haven't visited yet? Have questions about Anghiari? Ask them here!
Explore nearby towns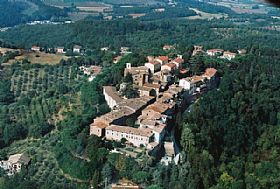 The hamlet of Fighille rests right where Umbria meets Tuscany.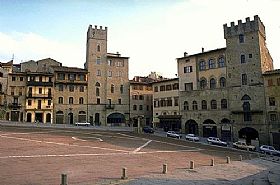 The border town of Sansepolcro is an underrated gem.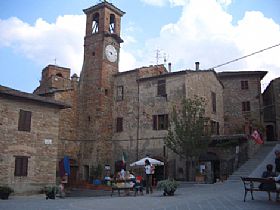 Citerna is a charming Umbrian town that sits right at the border where it bumps up with Tuscany.