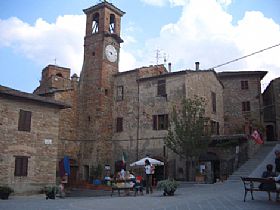 Citerna is a charming Umbrian town that sits right at the border where it bumps up with Tuscany. It is between Citta di Castello (Umbria) and Sansepolcro (Tuscany), and is very close to the lovely art city of Arezzo.
Named one of Italy's prettiest villages, it retains intact its Medieval character with its typical lanes, stone buildings, encircling walls, and city gates. It was part of the territory of the Etruscans, but evidence of a Roman presence was also found here. It was hotly contested by Arezzo and Citta' di Castello, the Guelph and Ghibelline divisions that feuded for centuries. Citerna was passed on to the Papal States. During the Renaissance, it was in the hands of the influential Vitelli family, who were lords and philanthropists, as well as friends of the powerful Medici clan. They enriched the town with monuments and artwork by the likes of Donatello, Pomarancio and Signorelli.
There is an extensive system of cisterns below Citerna which lent it its name and is an interesting relic of its days as a strategic town. The cisterns were necessary to supply water during the sieges and strife.
A unique feature of Citerna is the "Camminamento Medievale" - or medieval walkway. The arcaded covered passageway dates to the Middle Ages and still provides a romantic stroll with overlooks through the arches. There are two of the ancient city gates still standing and through which you still enter the town - Porta Romana and Porta Fiorentina, for the directions they faced (towards Rome and towards Florence). The hexagonal shaped Monastery of St. Elizabeth is interesting, and Piazza Scipioni is a must, with its overlook of a natural amphitheater below in the Tiber Valley. A 'don't miss' monument is the Church of San Francesco, which is a church-museum with a Byzantine wood crucifix and masterpieces by the above-mentioned famous artists. The church of San Michele Arcangelo is another treasure. The 12th century Romanesque structure boasts a beautiful rose window, a barrel vault ceiling, and ceramics by Della Robbia. That's quite a lot of artistic fame for a tiny town!
The food of this area is noteworthy, as well. Look for the local vin santo, a sweet dessert wine that is traditional of central Italy. There are dishes loaded with the fruits of the forests, like truffles and porcini mushrooms, and homemade pastas with sauces made from duck, rabbit or vegetables. The famous beef from the Chianina breed of cattle makes a frequent appearance on restaurants' grills.
Citerna is tiny but has shops and restaurants, and is in a beautiful location in Umbria's hills, just a few minutes from Tuscany. There is a beautiful blending of nature, art and architecture, and history here.
Been there? Done that? Share your experience and tips!
Haven't visited yet? Have questions about Citerna? Ask them here!
Explore nearby towns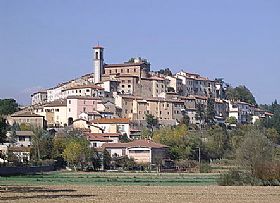 Monterchi is a small village, perched on top of a hill near Arezzo, in the upper Tiber Valley.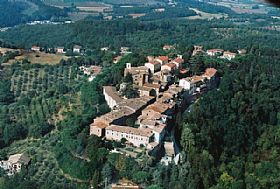 The hamlet of Fighille rests right where Umbria meets Tuscany.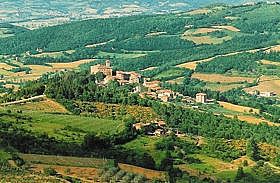 The charming village of Lippiano belongs to the municipality of Monte Santa Maria Tiberina, in the province of Perugia, Umbria region.