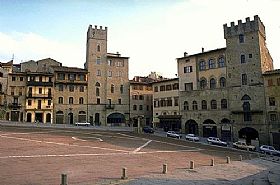 The border town of Sansepolcro is an underrated gem. Sitting where Tuscany cozies up to Le Marche and Umbria, it is a lovely stone city with a sense of style. Its location in the Upper Tiber Valley makes it easier to get around than many medieval towns as it sits on mostly level ground. Legend says that it was founded by two pilgrims who returned from the Holy Land with a piece of rock from the holy sepulcher of Christ and built a chapel to house the precious relic. A Benedictine monastery grew into a real community that gained walls thanks to the Medici family, who took possession of the town for a while. The heavy fortress that still bears their name is a symbol of the city.
Sansepolcro gained prominence in the Middle Ages due to its location along trade routes that linked central Italy with the Adriatic coast. The city has a certain style to it, understated but lively, with honey stone palaces and piazzas, and a well-kept atmosphere. The wide, sloping main piazza is enclosed by its imposing buildings and towers, making it reminiscent of Siena's. The streets lead past tidy homes with flower boxes. Posh shops line up along Via XX Settembre, and there are some cafes and restaurants to enjoy around the historic center, too.
The Romanesque cathedral, the Duomo of San Giovanni Evangelista, was created from the chapel of the relic of the holy sepulcher. It was originally dedicated to the four evangelists and the sepolcro. Inside are paintings by Perugino and local hero, Piero della Francesca, among other notable works. Della Francesca is a famous regional artists whose paintings are sprinkled around the area, so don't miss a trip to the Museo Civico to see his most glorified masterpiece, the Resurrection. Another renowned work of his, The Legend of the True Cross, hangs in nearby Arezzo in the Church of San Francesco.
Palazzo delle Laudi is the seat of the city hall with its loggia. There are lots of palaces to pass and admire around town; this is a town to discover - to wander around and let it unfold itself. It is an active community where the townspeople still parade in the evening for the passeggiata.
Sansepolcro is just 20 miles from Arezzo, but its location near the border puts it close to Citta di Castello in Umbria, and Urbania and Urbino is Le Marche. In its home region of Tuscany, you'll find Cortona and Lake Trasimeno, as well as Anghiari, Montepulciano and Montevarchi in easy reach.
Been there? Done that? Share your experience and tips!
Haven't visited yet? Have questions about Sansepolcro? Ask them here!
Explore nearby towns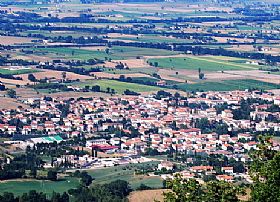 A mostly-modern town in a valley location with some historical buildings, San Giustino is nearly on the border of Umbria and Tuscany.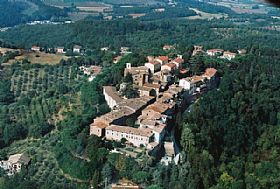 The hamlet of Fighille rests right where Umbria meets Tuscany.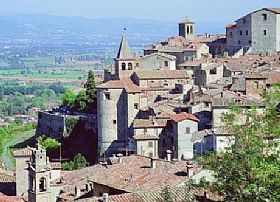 The walled stone town of Anghiari is a beautiful gem in the province of Arezzo, Tuscany.