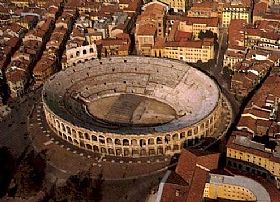 The symbol of Verona is a Roman amphitheatre dated back to the first half of the I century AD, one of the best preserved in the world! The name comes from the Latin toponym to indicate the sand that covered the stalls. It is the third Roman amphitheatre in terms of size, after the Colosseum and the amphitheatre in Capua. The Arena was built to house the bloody fighting between gladiators and wild beats to amuse nobles and common people of the time.
Erected outside the city walls (in order to make it easily accessible from the nearby areas and keep it out from potential violent crowds), the edifice was built following the Roman drainage system and urban road network of the time.
It has been used as source of building materials to build a number of houses later on: this is the main reason of its incompleteness. The external boundary ring had paid for this: already damaged in the VI century, it was totally destroyed after an earthquake in the XII century. That ring consisted of a triple series of arches laid one on top of the other, in perfect Tuscan style and made of white and pink Valpolicella calcareous stone. It included complex ashlar works for all its height (31 meters maximum).
Nowadays the external cover is only partially visible in the so-called "Ala", with four spans. The internal ring with two rows of 72 stone arches, that create a 140X110 meters ellipse, is perfectly intact. From the stalls, stand up 44 tiers of seats, reachable from the 64 "vomitoria" (passages situated below or behind a tier of seats in an amphitheatre). Cavea and stalls have been recently restored.
Just below the monument, archaeological excavations have allowed to find a complex drainage system. The first part of this network carried surface water away from the arena, its subterranean galleries, the podium, ima and media cavea. The second part drained the summa cavea, external façade and its portico and the broad elliptical piazza surrounding the monument. The most important findings are preserved into the local Archaeological Museum.
Tha Arena has always been used to house spectacular events. After the Roman games, during the Middle Ages tournaments took place there. Since 1913, the Arena has become seat of the most important open air theatres in the world!
Been there? Done that? Share your experience and tips!
Haven't visited yet? Have questions about Arena di Verona? Ask them here!
Address in Verona:
Via dietro Anfiteatro, 4-8.