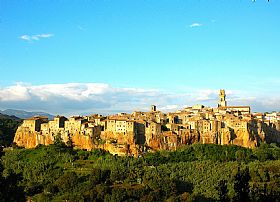 Pitigliano is a truly unique village in southern Tuscany, in the less-known Maremma district. The town is dubbed "la citta' di tufo" for the rock that it not only is built of, but rests on. Pitigliano is perched on a tufa bluff, making it a dramatic sight.
The village is also called "Little Jerusalem", not just because it looks ancient and bears a resemblance (in miniature) that that city, but more specifically for the long presence of a Jewish community in the town. There has been a "Hebrew quarter" for more than half a millennia, and there is still a synagogue, kosher shops and traditions intact. The Jewish district (quartiere ebraico) is the most characteristic and charming section of town.
This fascinating town rests on top of a cliff and exudes a romantic and mysterious air. It unfolds along the ridge with narrow, almost-secret alleys and opens into little overlooks. Beneath are age-old wine cellars carved right into the rock on which Pitigliano is built, with a network of secret tunnels and intersecting chambers. The stuff of fantasy and epic films! In fact, nearly every house is provided with a cellar, which goes down, down, down into the cliff, with wooden barrels where the wine is preserved at a constantly cool temperature. The Bianco di Pitigliano is a crisp white that is gaining in popularity.
Ancient Origins
Pitigliano can boast ancient origins, as testified by the numerous Etruscan tombs found in town throughout the ages. More fascinating are the "vie cave" pathways they carved through the tufa rock all over the area. These tunnel-like trails linked towns and ceremonial sites together and are interesting to explore.
Pitigliano's political life was closely connected to the nearby village of Sovana, ruled by the Aldobrandeschi family. Pitigliano gradually increased its military importance thanks to both the strategic position and the fortuitous marriage between Anastasia, the last Aldobrandeschi descendant in Maremma, and Romano Orsini, a relative of Giovanni Gaetano Orsini (who was better known as Pope Niccolò III). Pitigliano became the feudal seat of the county and the Orsini's made it their main residence.
Pitigliano Today
It gives a spectacular, unforgettable impression! You will breathe the history of different eras and cultures just by walking the time-worn streets, from prehistoric, Etruscan, Roman, Middle Ages. The Palazzo Orsini is the imposing structure where you enter the old town, unmistakable and shouldn't be missed because it houses two impressive museums (archeology and art). There is a tiny theater, like a little jewelry box, compact but active with music and shows. Charming lanes, interesting architecture, and beautiful landscapes are the hallmarks of Pitigliano. Explore, you won't regret it!
Been there? Done that? Share your experience and tips!
Haven't visited yet? Have questions about Pitigliano? Ask them here!
Explore nearby towns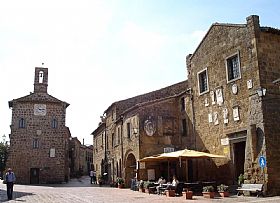 Sovana is a golden stone hill town surrounded by green woods and gently rolling hills in southern Tuscany.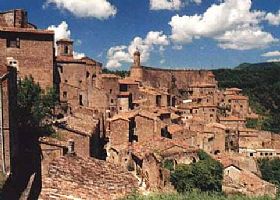 Let yourself be enraptured with the beauty of Sorano.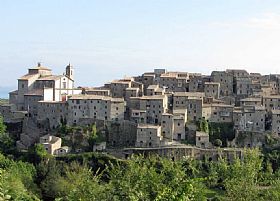 Onano represents the northernmost point of Lazio, near Viterbo, at the foothills of Mounts Volsini.