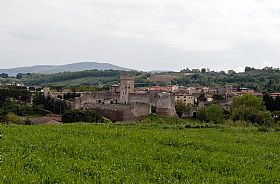 Staggia Senese is a quaint Tuscan town presided over by its castle, just ten minutes from Siena. It is only a few kilometers from Poggibonsi and offers a fantastic location for touring around Tuscany and venturing into nearby Umbria.
The center of town is dominated by its ancient castle, built in 990. It is still cradled in high walls with round watch towers standing guard at the corners, while a high crenellated tower rises from within to survey the famous scenery of Tuscany. It was once surrounded by a moat. Staggia Senese has been a strategic town since its inception as it straddles the historic boundary between Siena and its rival republic of Florence. In fact, a peace accord between the city-states was signed in a salon of the castle in 1360 and the terms of the agreement passed Staggia over to Florence's domain. The peace didn't last long as Siena tried to recapture the town in 1476. Staggia was also right along the important trading route known as via Francigena and so the town enjoyed importance as a commerce center.
It maintains its medieval streets, towers and archways and gateways. A long stretch of the old protective wall slices through town. While its small it has several restaurants, coffee bars and shops for daily life. The larger market town of Poggibonsi is just a few minutes down the road. In town, there is an historic theater now dishing up dinner and shows. The little church hides lovely artwork within its simple structure.
Nearby is the perfectly preserved Castello di Strozzavolpe. The countryside is marked by meadows, rolling hills covered in vineyards and olives, outlined by distant mountains. This is postcard-scenery Tuscany! The area specialties include porcini mushrooms, thick ribollita soup, and the famous Fiorentina steak.
All of the best sights of Tuscany are in easy reach - the art town of Siena, San Gimignano and its famous towers, the hills, towns and wines of Chianti, along with Volterra and Florence.
Been there? Done that? Share your experience and tips!
Haven't visited yet? Have questions about Staggia Senese? Ask them here!
Explore nearby towns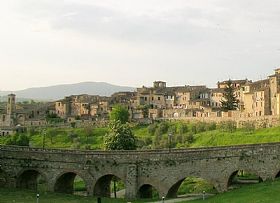 The medieval town of Colle di Val d'Elsa is set like a jewel on top of a high and evocative hillock, whose narrow valleys divide into three parts the fabric of the town.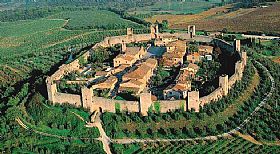 Monteriggioni is an incredibly charming walled medieval village at a few minutes from Siena, Colle Val d'Elsa, San Gimignano and Certaldo.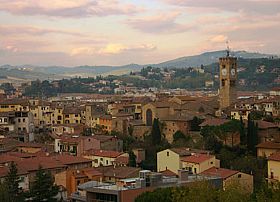 Poggibonsi, in the heart of Valdichiana, is one of the classic Tuscan dream places, rich in culture, art and tradition.