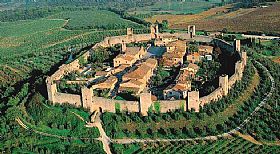 Monteriggioni is an incredibly charming walled medieval village at a few minutes from Siena, Colle Val d'Elsa, San Gimignano and Certaldo. With a simply stunning visual effect from above, it seems almost fake...
You'll have the sensation of being out the world: no traffic at all and a the perfectly intact medieval environment will let you feel as part of a fairy-tale. Inside the walls there are: two bars, one food shop, two restaurants, an herbalist's shop, a hotel and a delightful retailer of typical products.
Unspoiled luxuriant nature is the perfect setting of this lovely place, where you can confidently enjoy long walks, trekking, bicycle or horseback excursions. We strongly recommend some guided tour by hot-air balloons or helicopter (a bit more expensive, but just spectacular!).
World-class golf and archery courses, wildlife parks and the warmness of its 42 inhabitants, identify Monteriggioni rather than guarantee a fantastic relaxing vacation there.
The village has never had the possibility to expand itself, because of the elliptical town walls, that measure only 570 metres. The village is also delimited by 15 imposing towers, 6.5 metres higher than the walls themselves, where ab horigine there was a communication trench as long as the entire boundary walls.
After a brief walk through the main gate, you'll find Piazza Roma, the centre of the village that hosts the parish church of St Maria Assunta, built in 1219. The church's been built with a unique large nave, covered by ribbed vaults sticking to structure of the roof. The nave terminates in a square apsis, with cross vaults in Gothic style, where you'll find the wooden choir dated back to XVI century, positioned behind the high altar. The polychrome façade is constituted by travertine and pietra serena (or Fiorenzuola stone, a special Italian grey sandstone) limestones, with a huge portal surmounted by archivolt, above which there's a notable "eye" with brick decorations.
In Piazza Roma, in front of the church, every year, the first two weeks of July is celebrated the Medieval Festival. This festival is becoming more and more popular mostly because everything is faithfully reconstructed with a pinpoint attention to details. You will pay using the ancient coins: the Scudo of Monteriggioni. The village is enlightened by torches and candles, and everybody uses horses and donkeys for transports. It might be a unique occasion for an intense funny role-playing.
Been there? Done that? Share your experience and tips!
Haven't visited yet? Have questions about Monteriggioni? Ask them here!
Explore nearby towns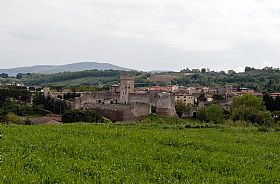 Staggia Senese is a quaint Tuscan town presided over by its castle, just ten minutes from Siena.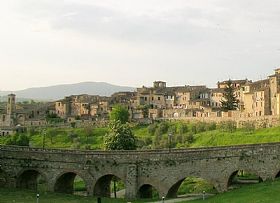 The medieval town of Colle di Val d'Elsa is set like a jewel on top of a high and evocative hillock, whose narrow valleys divide into three parts the fabric of the town.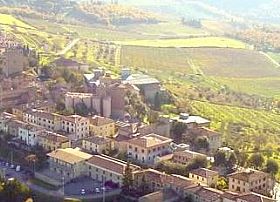 The splendid village of Castellina boasts Etruscan and Roman origins, even if traces of this past are lost in time.