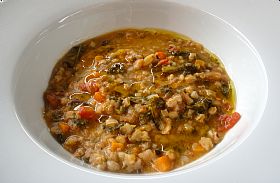 This hearty peasant soup hails from Tuscany and is a brilliant way to use leftovers. The "recipe" varies by cook and by what is in the house or garden, but always utilizes stale bread, vegetables and white beans. If there is a bit of prosciutto or pancetta to throw into the pot, that rounds it out to add a bit more flavor, but it's not a necessary component. It is a satisfying dish that anyone can make!
This is a guide more than a recipe. Use whatever vegetables you have or like.
In a big soup pot, sauce onion and garlic in olive oil. Add chopped carrot, celery and leek. Then throw in any other vegetables such as diced potatoes, sliced cabbage, chard or spinach. Add a couple of chopped tomatoes or some tomato paste, cover with broth (vegetable or beef), and herbs like sage, parsley, thyme and/or basil, and salt and pepper. Let simmer about an hour. Add the stale bread and let cook about ten minutes then serve. Sprinkle with grated pecorino or parmesan cheese. Other cooks put the bread into the bowl and spoon the soup over top of it to serve. The bread will break up into couscous-like crumbled that enrich the soup. If you're using pancetta, brown it before adding the onion and garlic. You can also toss a cheese rind from the parmesan into the pot to add some flavor.
Been there? Done that? Share your experience and tips!
Haven't visited yet? Have questions about Ribollita? Ask them here!