Santa Maria Maggiore and Rome hidden in the Monti district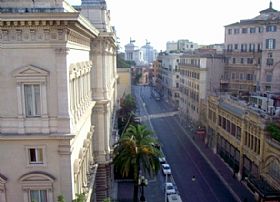 Discover one of the less-known corners of Rome, in one of its oldest districts. In fact, you'll see the sign RIONE I engraved on a stone plate, indicating that Monti is was the first of Rome's 22 rioni (districts). During the Imperial period it was a slum called Subura that abutted the Forum. A wall was constructed to hide its squalor. To the north is the Quirinale, still the power seat of the city, the official residence of the President.
The slum is no more; now Monti is a trendy area wedged between the Forum, the Colosseum and Via Nazionale. It is a lived-in neighborhood with funky shops, great restaurants, a community feel and a glimpse of Roman life. In its district you'll find Trajan's Baths and Trajan's Forum, some important churches, a perky piazza, paint-peeling palazzi and some ancient ruins. In short, a fun place to wander and feel like a Roman for a day!
Highlights of Monti
Piazza Madonna dei Monti. The center of civic life for the neighborhood, little kids kick balls while old ladies gossip by day; while teens and 20-somethings come out in droves in the evening to hang out in this piazza. The fountain splashes bubbly background music to any happenings here.
Santa Maria Maggiore. Perhaps the most famous church in this district, it's one of four papal basilicas and Rome's largest Marian church. Built in 430 AD it has had constant additions and alterations to create the highly decorated basilica you see today.
St. Peter in Chains. (San Pietro in Vincoli). Named for the chains on display which are said to have held St. Peter while kept in the nearby Mamertine Prison awaiting his crucifixion. The plain facade hides a white Baroque interior. The most famous attraction is the sculpture of Moses by Michelangelo.
Basilica of San Giovanni in Laterano. The basilica that is actually the papal seat, it is a light-flooded beautiful space with gorgeous sculptures, rich mosaics, and one of Rome's prettiest cloisters.
Sant'Andrea al Quirinale. Bernini's Baroque triumph is this little gem with its oval plan, gorgeous decorations and playful cupids peeking out from the "dome". It's like being inside a beautiful Faberge' egg.
Church of San Carlo alle Quattro Fontane. Borromini's curvaceous Baroque facade and honey-combed coffered dome created a stir when it was dedicated. But through the centuries, the ground-breaking architectural design based on geometry and optical illusion has come to be studied and appreciated.
Quirinale Palace. The official residence of the President, the enormous palazzo stretches over the so-called Quirinale Hill and is protected by a presidential guard in fancy uniforms. Come at 4:00 PM to see the changing of the guard.
The Scuderie of the Quirinale. What once served as the papal stables is now a unique art exhibition space. Be sure to check on any special shows that might be going on here. Past displays included exhibits dedicated to Titian, Vermeer, Caravaggio, and Bellini, to name a few.
Eat and Drink in Monti
This neighborhood has good hang-outs where the residents have their daily cappuccino, their evening aperitif, and a meal out with friends now and then. There are choices that run the gamut from traditional Roman trattoria to ethnic eats, with some of the city's renowned spots that have been in business for decades.
Ai Tre Scalini - Via Panisperna. A long-time wine bar that is the place for aperitivi (a pre-dinner drink with accompanying snacks) or a light meal. Always bustling.
Antico Forno - Via dei Serpenti. At the corner of Via Panisperna, this bakery provides the carbo-loading for Monti with its excellent selection of breads, foccaccia, cookies and pastries, in a sleek, cool interior.
Sciue' Sciue' Cucina e Caffe - Via Urbana. An urban cafe with Roman dishes, a good wine selection and a laid-back vibe.
Il Gelatone - Via dei Serpenti. A huge selection of gelato flavors that includes dairy-free options for the lactose-intolerant and sugar-free options for diabetics.
Ristorante Tema - Via Panisperna. A cozy spot that serves seafood specialties with an extensive wine selection, too.
Shopping in Monti. Boutiques, funky shops and artisan shops are found throughout the quarter, especially on Via del Boschetto, Via Panisperna and Via dei Serpenti.
Been there? Done that? Share your experience and tips!
Haven't visited yet? Have questions about Santa Maria Maggiore and Rome hidden in the Monti district? Ask them here!