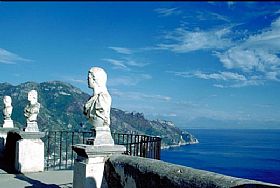 Villa Cimbrone is a landmark of Ravello where guest can enjoy a stunning view of the Amalfi coastline. It takes 10-minute by walk from the main square and it's reachable only passing through a signposted footpath punctuated with steps and stairs. Worth it! When you reach the villa's entrance, you'll be shown vaulted cloisters, evocative architecture, ruined chapels, and panoramic views over the Bay of Salerno.
Its name derives from the rock (Cimbronium) on which it lies. Reliable documents date it back to the golden age of Ravello (11th century). Over the centuries, it belonged to several noble families, including the Fusco, who were related to the Pitti in Florence and the D'Angiò in Naples. The restyling of Villa Cimbrone coincided with the end of the 19th century, when it was sold to Lord Ernest William Beckett. He deeply felt in love with the villa and he decided to give it back its authentic medieval-style.
During the first decades of 20th century, the garden had increased its peerless beauty, with botanic rarities, statues, gazebos, amazing trees and refined details. The Lord Grimthorpe tenure was marked by famous gardening experts.
The visit of Greta Garbo made famous Villa Cimbrone all over the word. From that moment onwards it has been visited by famous artists, musicians and politicians (including Bill Clinton).
If you are not Bill Clinton let us give you some advice:
put your hat and gym shoes on and don't forget your camera;
bring a bottle of water with you, mostly if the weather looks like sunny and sticky-humid. It could happens from the end of June till the middle of August;
if it's spring or autumn, we hope you won't forget your jumper! Ok… It's true… You've chosen Christmas, you also need of a big scarf!
it is not a free-entrance, although the price is not expensive. You don't need to book your name and pay the ticket in advance. The gardens are open each day of the year, from 9 am until sunset. Tickets are around 5 euros each. Discounts are available for groups and children.
Been there? Done that? Share your experience and tips!
Haven't visited yet? Have questions about Villa Cimbrone? Ask them here!