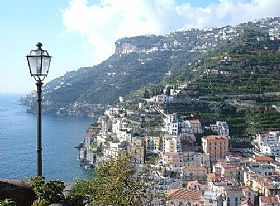 Minori is an attractive and uncrowded seaside town at the centre of a wide cove on the Amalfi Coast. It retains its identity as a laid-back fishing village and remains a gem of the Costiera. Wooden fishing boats can be found parked on the beach amidst the umbrellas and sun-bathers.
It was a resort-like retreat among aristocratic Romans who came for the sunshine and dramatic scenery. Remains of a 1st century BC Roman villa were uncovered and the museum displays fresco fragments, clay vases, mosaics and other decorative items. Minori shares a checkered past with its neighboring towns that formed the Maritime Republic of Amalfi, enjoying the fruits and failures of the once-grand coastal republic that rivaled Venice before being defeated by Pisa. In more recent history, it was a site of the Allies' Salerno landings during WWII in Operation Avalanche.
Minori is dubbed "the town of good taste" for its gastronomic delights. During the Bourbon era, Minori was the center of pasta and pastry production for the Kingdom of Naples, and there were numerous flour mills throughout the historic center of town, powered by the Rheggina River that flows along the creviced valley from the mountains to the sea. Pasta was hung to dry in Minori's sunny piazzas. Terraced gardens stagger up the rugged hillsides, filled with citrus trees. The lemons are used to make some of the tasty pastries sold in shops throughout the Amalfi Coast, but also in the production of limoncello, the area's legendary liqueur. Minori confirms its place as a gourmet center with its annual food festival GustaMinori.
Minori may just be the ideal destination - quiet and unpretentious, it is easily reachable by bus or boat from each town of the Coast. You can get to Amalfi in just 15 minutes; the other famous resort towns are just a short distance away, but Minori generally costs less. Sunsets are spectacular here!
Recommendations:
Restaurant L'Arsenale and Pasticceria De Riso are two landmarks that shouldn't be ignored by foodies.
Museo Marittima Romana - 1st century BC Roman villa
Been there? Done that? Share your experience and tips!
Haven't visited yet? Have questions about Minori? Ask them here!
Explore nearby towns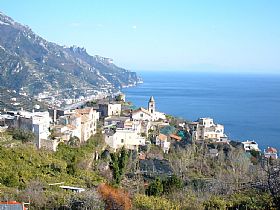 Torello sits below Ravello, overlooking the entire Amalfi Coast.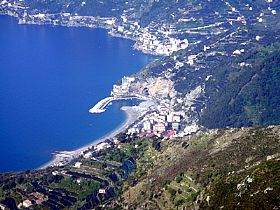 Maiori is well known for being an active, lively town with the largest beach of the Amalfi Coast.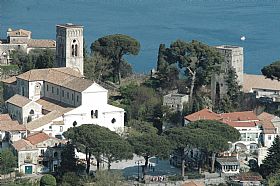 Ravello is one of the most charming towns on the Amalfi Coast.