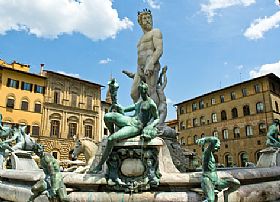 The monumental square, Piazza della Signoria, is the central focal point of Florence. The piazza has served as the city's political and social hub for centuries. It's a popular place to promenade, and the seat of city government is still housed in the Palazzo Vecchio, where the rulers have reigned since Florence was a great republic.
Some of Florence's most famous attractions are here. The medieval Palazzo Vecchio was completed in 1322. The imposing structure looks defensive with its heavy stone and crenellations. The tall bell tower used to sound the alert of danger and call the citizenry to public meetings. The palace still serves at the civic center of Florence. Inside are frescoes by Michelangelo, Bronzino and Ghirlandaio, along with other art treasures. The entrance is guarded by Michelangelo's famous sculpture of David (a copy now stands where the original had been placed.) The palazzo and its decorations were intended to demonstrate the city's power.
The Loggia dei Lanzi is an open-air gallery where wide arches reveal Renaissance sculptures placed under the protective porch. The incredible statue of The Rape of the Sabine Woman by Giambologna was carved from a single block of marble, a flaw appearing after the artist started sculpting. Off the corner of the Palazzo Vecchio is the delightful Neptune Fountain, the Roman sea god surrounded by horses and nymphs.
Sidled up next to the Palazzo Vecchio is the Uffizi Gallery, built in the 1500s as offices (uffici), with a revolutionary gallery of glass on the upper floor, which showed off the Medici family's impressive art collection. Today, the Uffizi is one of Italy's most important museums with priceless treasures that together act as a one-gallery art history class. The most important painters and sculptors of the Renaissance are represented - Botticelli, della Francesca, da Vinci, Titian, Caravaggio, and Raphael, to name but a few.
The rest of the spacious piazza is hemmed in by palaces and buildings of Medieval and Renaissance origins, giving it a unique atmosphere and sense of place. It is a gathering spot for locals and tourists alike. Just a few minutes' walk takes you to the cathedral of Santa Maria del Fiore or to the interesting Ponte Vecchio.
Been there? Done that? Share your experience and tips!
Haven't visited yet? Have questions about Piazza della Signoria? Ask them here!
Address in Florence:
Piazza della Signoria.