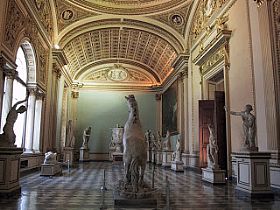 The most visited museum in Florence is jam-packed with art treasures that shouldn't be missed. The Uffizi is rightly renowned, as it holds one of the world's most celebrated collections of Renaissance paintings that include masters like Giotto, Botticelli, Da Vinci, Raphael, Titian, Caravaggio, and Michelangelo.
The Uffizi started as a project by Cosimo de Medici to build office (uffici) adjoining Florence's seat of power, the Palazzo Vecchio. He hired Giorgio Vasari to design it, and work started in 1560. By 1565 the symmetrical Renaissance building was housing the magistrates and state archives for the Florentine Republic. The U-shaped structure is a fine example of ordered architecture, with a portico on the ground floor and three corresponding windows in different styles on each floor above. The back end features a triumphant-style arch and columns, topped by corridors of the building above, forming a courtyard, but with access beyond to the Arno River. The front extends to the Loggia dei Lanzi, with a balcony over the loggia itself that was used as a terrace for garden parties, musical evenings and featured a roof-top garden atmosphere with a fountain, pergola and citrus trees in pots, a place for the elite to gather.
The top floor of the Uffizi was destined to be used as a space to showcase the classical sculptures, portraits and paintings in the de Medici collection, and in 1579 the frescoes on the ceilings were commissioned. It was open by appointment throughout the 1600s; in 1765, it was opened to the public as a proper art gallery.
Upon the marriage of Cosimo I's son, Francesco de Medici, to Giovanna of Austria, construction of a passageway was ordered, to provide covered and unfettered access from the Palazzo Vecchio, over the roofs and streets, across the Ponte Vecchio bridge, to the Pitti Palace on the other side of the Arno, which would be the home of the newlyweds. The so-called Vasari Corridor was built and is now open for tours by reservation.
The Uffizi Gallery continued to expand its collection and space, so now it occupies two floors and showcases one of the finest art collections ever assembled. Reserve in advance online to ensure your entry; cost is €6.50 for the ticket plus a €4.00 booking fee. Visit the official website for more details. The Uffizi Gallery is open from 8:15 AM til 6:50 PM. Closed Mondays.
Been there? Done that? Share your experience and tips!
Haven't visited yet? Have questions about Uffizi Gallery? Ask them here!
Address in Florence:
Piazzale degli Uffizi, 6.
Ph. (+39) 055 238 8651.