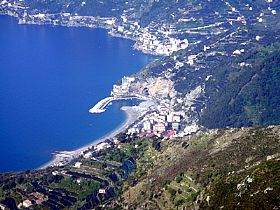 Maiori is well known for being an active, lively town with the largest beach of the Amalfi Coast. Maiori, as the name implies, is the "major" town of the Amalfi Coast, as the largest one it offers colorful nightlife, an active community, as well as good restaurants and shops.
The origin of Maiori is shrouded in mystery. The debate about whether the founders were the Romans, the Etrurians or the Greeks still goes on today. What the experts agree on is the fact that the original name of the town was Reginna Maior, in contrast to the neighbouring town, Minori, Reginna Minor. As a matter of fact, Reginna Maior and Reginna Minor used to be the names of two rivers, and, you guess it, Maiori was founded at the mouth of the Reginna Maior river. As it happened, the river dramatically overflowed in 1954, leaving little of the ancient Maiori, that has been nearly completely rebuilt. Nowadays the town has a mostly modern look, quite different from the old coastal faces of other villages of the coast.
That doesn't mean there aren't Old World things to see here. Worth a visit in Maiori are the church of Santa Maria a Mare - the main church of the town, it was built in an elevated position in the 12th century and remodeled in the 18th century. Its crowning, characteristic majoilica dome sets it off. The statue of the Virgin Mary was found floating in the water and is considered by locals to be miraculous. The Sanctuary of Santa Maria delle Grazie dates back to 596 (!). The original basilica was destroyed by the river's flooding and it was rebuilt; its facade is from the 17th century, while the internal frescoes were painted during the Renaissance era. The baptismal font is from the 1300s.
Maiori is also the starting (or ending) point on the Path of the Lemons, that winds through the groves to Minori. High above Maiori is the stark outline of the protective castle, while along the coast are the stalwart towers that guarded the town from sea-borne invasions.
Maiori can be reached by public transportation using the SITA bus (line Amalfi-Salerno).
Been there? Done that? Share your experience and tips!
Haven't visited yet? Have questions about Maiori? Ask them here!
Explore nearby towns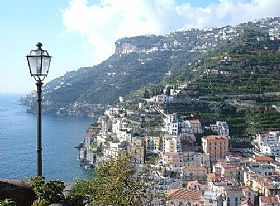 Minori is an attractive and uncrowded seaside town at the centre of a wide cove on the Amalfi Coast.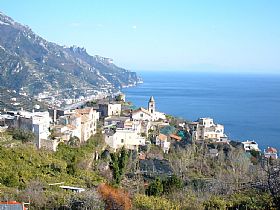 Torello sits below Ravello, overlooking the entire Amalfi Coast.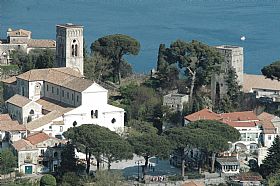 Ravello is one of the most charming towns on the Amalfi Coast.