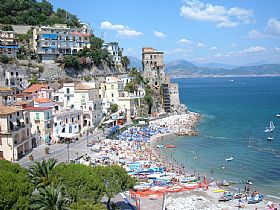 Cetara is a cozy fishermen's village nested along the Amalfi Coast among verdant citrus groves. The road that leads along the coast from Vietri sul Mare continues the length of the shoreline, overlooked by rugged hills and rocky seashore, past the fascinating villages of Raito and Albori, before continuing on almost straight to reach the ancient charming basin of Cetara.
Cetara's name is derived from the Latin, Cetaria (meaning tuna-fishing nets), indicating its importance through the ages as a fishing settlement. It was under the political rule of the Republic of Amalfi for centuries. In 1551, Turkish armies raided and enslaved the Cetaresi, killing all those who did not embark with them. After this tragic episode, the survivors built a magnificent watch tower (nowadays used as private residence, but still standing and overlooking the tiny beach), while the majority escaped to Naples.
Cetara Today
The picturesque white architecture, along with the marvelous secluded beach make Cetara one of the jewels of the Amalfi Coast. Among the small sugar-cube houses you'll find the church of St Peter with a noteworthy glazed dome and the thirteenth-century bell tower with double lancet windows.
Some fishermen still practice the ancient tradition, handed down throughout the years, fishing anchovies and tuna, which are staples on the local tables and exported around Italy and Europe. Cetara is famous for the local production of 'colatura di alici': the delectable drippings of salted anchovies. Colatura comes out naturally from the process of salting anchovies "Cetara-style". When the fish is caught, the fishermen throw it into wood barrels, alternating layers with handfuls of salt. Then the fish is pressed down by a wooden lid weighted with rocks. By December, the anchovies have produced a bit of fragrant amber juice. A tiny hole is poked in the from the barrel, and a bowl collects the colatura that drips through this small hole as the fresh and salted anchovies give off their juice. It is delicious drizzled on spaghetti or as a dressing for grilled vegetables, adding a bit of pizzazz.
Been there? Done that? Share your experience and tips!
Haven't visited yet? Have questions about Cetara? Ask them here!
Explore nearby towns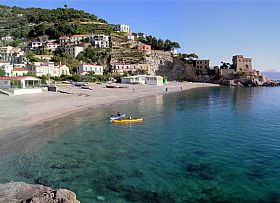 Just a few miles along the Amalfi Coast from Cetara amid scented olive and lemon trees is Erchie, a picturesque fishing village.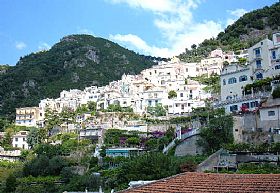 Albori is a characteristic uphill village on the Amalfi Coast, clinging to the eastern side of a valley dominated by Mount Falerzio.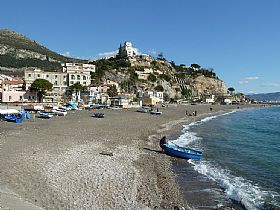 Marina di Vietri is the first beach along the divine Amalfi Coast, set into the rocks of the Lattari Mountains.