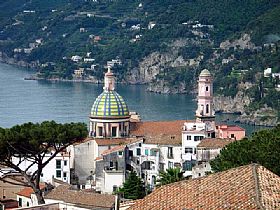 The first pearl of a mesmerizing collection... the Amalfi Coast opens the doors to his curious tourists to a gorgeous little jewel: Vietri sul Mare.
Crystalline pure waters meet the bright blue backdrops and eternal sunscapes, creating an incredible healing place, that will nourish your soul. Brilliant tones of orange, green, red, and deep sea blue are the natural colour schemes representing such a beautiful fishermen village, adding a touch of magic to this wonderful Mediterranean retreat.
Vietri is famous for the unique production of "Ceramica Vietrese", a special traditional kind of pottery exported anywhere. The ceramics in Costiera boast a long history, whose roots traced back to the XV century... the clay used to be imported from Salerno rather than Nocera, and cooked into high powerful ovens.
The ability of the local craftsmen's become finer and finer thanks to the important trade exchanges and commerce with Sicily, Tuscany and many other Mediterranean areas, and the subsequent possibility to learn new techniques. This situation allowed popular international artists like Richard Dolker, Irene Kowaliska and Guido Gambone to relaunch name and themes of ceramics in Vietri all over the world.
Whether you are keen on this kind of art or not, you should go to visit the delightful Museum of Ceramics set up in the Tower of Villa Guariglia. The museum is located on top of Mount Falerio, overlooking the sea and Vietri itself, in a lovely hamlet rich in parish churches frescoed by Solimena, called Raito. It's a natural nativity scene, with just a few white houses set like precious stones of which Villa Guariglia is the diamond!
You'll admire a huge range of things, like: holy water containers, decorated plates, candlesticks, pots, kitchen pots, flowered pots, as well as various ornaments. All this reproduced in order to bring back to life an antique tradition handed on from father to son generation by generation.
Also, do not miss to visit the Church of St Giovanni Battista, with a late-Renaissance façade, surmounted by an elegant majolicated cupola. The large furnished beach below composes the district of Marina, destination of tourists in summer and weekends, with the stunning sixteenth-century Saracen tower.
Other hamlets under the municipality of Vietri sul Mare are:
Molina, whose name derives from the numerous medieval mills (in Italian, mulini) that used to be all along the river Bonea;
Albori, clung on the Eastern side of a picturesque valley dominated by mount Falerio, where to eat a fantastic "bruschetta", located just a few hundreds of metres before Raito;
Raito, a picturesque village with staircase "streets" (similar to Positano);
Benincasa e Dragonea, surrounded by lovely old woods, starting point of many hiking trails;
Fuenti that borders with the near Cetara.
Been there? Done that? Share your experience and tips!
Haven't visited yet? Have questions about Vietri sul Mare? Ask them here!
Explore nearby towns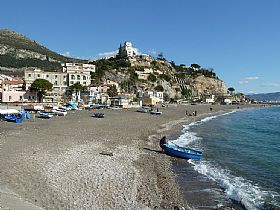 Marina di Vietri is the first beach along the divine Amalfi Coast, set into the rocks of the Lattari Mountains.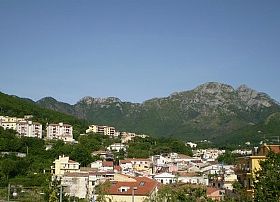 The village of Dragonea is cradled in the hills above Vietri sul Mare, at 270 meters above the sea level.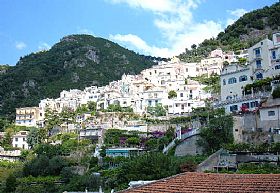 Albori is a characteristic uphill village on the Amalfi Coast, clinging to the eastern side of a valley dominated by Mount Falerzio.