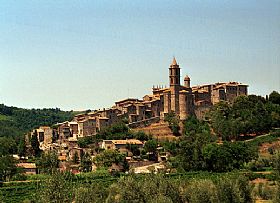 The lovely village of Baschi is a perfectly preserved medieval hill town, well worth a detour to wander the narrow lanes and soak in the Old World atmosphere. Located in the Terni Province, according to tradition, the town was built in the late ninth century by Ugolino of Biscay, a Carolingian officer in service to Charlemagne, who rewarded him with an old castle ("castrum vetus") on the banks of the River Tiber. Here, Ugolino of Biscay, nicknamed the "Basque", erected a new castle called Baschi, from his nickname. Others say the name derives from "vascum" meaning "basin" for the Tiber valley below, a name then adopted by the ruling family in the Middle Ages. What is known is that Roman artifacts and inscriptions were found on the site, though it was likely inhabited first by the Etruscans.
Baschi is a compact stone village on the hill overlooking the valley, a real jewel. In the Middle Ages it was feuded over by the nearby city-states of Orvieto (Guelph) and Todi (Ghibelline) until two families, one from each city, joined in marriage to resolve the hostility. The historic center is a lovely warren to wander, the streets are called "i buchi" (the holes) for the minute appearance of the houses, doorways and lanes, adding to its allure and lending it a real charm. The church of San Nicolo' has a beautiful triptych and a gorgeous organ boasting 500 pipes! The nearby Lago di Corbara is an oasis of tranquility on the Tiber River. Baschi is along the autostrada, right near the border of Lazio and Umbria.
Been there? Done that? Share your experience and tips!
Haven't visited yet? Have questions about Baschi? Ask them here!
Explore nearby towns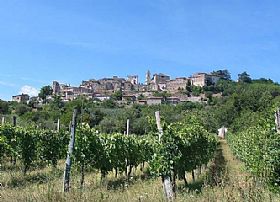 The stone hill town of Castiglione in Teverina stradles the border of Lazio and Umbria, occupying some of Italy's attractive rolling landcape.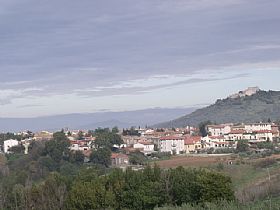 Guardea rests on a hillside in Umbria where the region brushes up to northern Lazio.