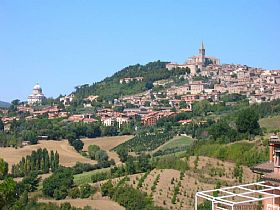 Todi rises on the top of a 400 meters hill that overlooks the valley of Tiber River, on the border with the ancient Etruscan territory. Its name derives indeed from this particular geographical position, Tutere that means "border".
Todi, still surrounded by overshadowing medieval walls, was founded for want of the Etruscan city-state of Veii, whose inhabitants were there in 2707 BC, under the guide of Tùdero, in order to control the Tiber River, a very important transportation and commerce artery.
According to the legend, the Etruscans had already deposited some boulders in order to erect surrounding walls: they were having a rest, eating some meat on a rough red cloth. At some point an eagle came down, took the cloth from the table and went back to the top of the hill. This fact was interpreted as a "sign of gods", and soon they built up high-rise walls on the highest top of the hill. The hill was named "Nidole", which means nest (of the eagle).
If you love art, you'll be surprised by the beauty of it gorgeous works of art. Think that just outside the medieval walls, you'll admire one of the most striking works of Renaissance: the church of S. Maria della Consolazione, with an elegant pale-green dome. Moreover nearby the ruins of a medieval fortress, there is the ancient church dedicated to Saint Fortunato.
Many of these marvellous monuments have been left almost intact as witnesses of the Roman origins of Todi: Todi's cathedral was indeed built on the ruins of an ancient Roman temple, and then it was dedicated to Saint Annunziata.
Standing on Piazza del Popolo, one of the most famous and lovely medieval Italian squares, you'll be stunned by the views over the surrounding countryside.
Todi is also known for beeing the hometown of Jacopone da Todi , a famous Italian poet that wrote in Italian its poems, leaving behind the Latin era of the Italian literature.
Every year, in July, thousands of spectators flock to the "Todi Arte Festival": this exhibition is famous as it involves several art genres: drama, opera house, various kind of music, visual arts and literary meetings.
Another exciting event scheduled in the Todi's summer is the "International Balloon Grand Prix" (Gran Premio Internazionale Mongolfieristico) it take place in July as well and it gives the medieval town a touch of a magic and unique atmosphere: just imagine 50 hot air balloons coming from all over Europe and U.S.A. that cross the sky.
The famous typical Italian food finds a great awarded testimonial in Todi, which is very famous for the cookery and healthy local food: that's why we would like very much to recommend to the tourists some homemade pastas, such as "tagliatelle" and "umbricelli" , which are a special kind of pasta prepared with eggs and flour that you could try and enjoy only in this part of the world.
Once again, It's a matter of making your stay unique and special.
Another Umbrian speciality is "torta al testo" that is flat bread made of water, flour, salt, pepper, olive oil, baked on "testo", a marble or earthenware hot surface.
If you're keen on cheese, well here you'll meet your match tasting "Caciotta tartufata" or "La Rocciata"… what a delicacy for good judges! ;-)
Been there? Done that? Share your experience and tips!
Haven't visited yet? Have questions about Todi? Ask them here!
Explore nearby towns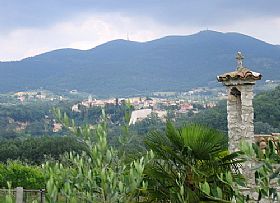 Massa Martana is the most important centre of a large rural area rich in human settlements, held among ancient castles and incredibly beautiful villas.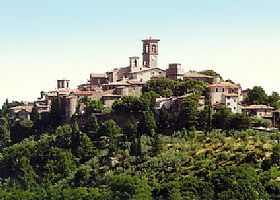 Collazzone is located on top of a 170-metre-high hill, very well connected with Perugia and Terni (10 minutes by car from Marsciano, junction on the E45 highway), and with Foligno and Spoleto (30 minutes by car).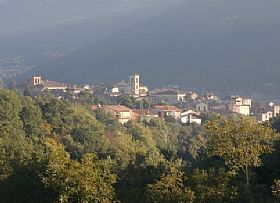 This Umbria town is surrounded by beautiful countryside and has a lived-in feel.