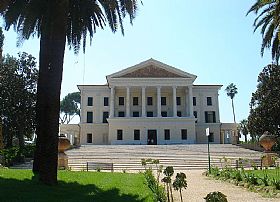 Villa Torlonia is a noble home that is now a museum in a sprawling public park and museum in Rome which overlooks Via Nomentana. Located just outside the Aurelian Walls, it is in an area that had become popular with noble families, in proximity of the Villa Borghese, Villa Ada, Villa Albani and others.
The villa was owned by the wealthy Pamphili family, who used it as a farm and country estate, like other villas in the district. The prince Giovanni Pamphili hired the neoclassical architect Giuseppe Valadier in 1797, to build the villa, which was completed for his son Alessandro. The powerful Torlonia family owed its fortunes to the activity of bankers and rose in power by purchasing and marrying into titles of nobility.
The lovely villa is classically style and features a handful of buildings scattered around the park. The two granite obelisks in front were transported from Lake Maggiore and erected by Alessandro Torlonia in 1842 in memory of his parents. The park was designed in the romantic era and placed among ruins and exotic vegetation, with allusions to antiquity and the Orient, blending an understated style and princely splendor. There are many species of trees: Pine, Californian Palm, American Pine, Dwarf Palm, Cedar, Oleander, Green Oak and Fig. Underneath the park are Jewish catacombs, which stretch over 9 km, consisting of two cemeteries dating back to the3rd and 4th centuries and are decorated with paintings that include Jewish symbols.
Valadier adorned the stables with a loggia decorated with statues. The Orangery (or limonaia as it is also called) was built for Giovanni Torlonia between 1840 and 1857 as a greenhouse for flowers and citrus trees. A theater was built in 1841 and was completed only in 1874 for Alessandro Torlonia's wife, Teresa Colonna. The villa was called Il Casino Nobile, and it bears classical construction with portico and triangular pediment. The interior is richly decorated. The villa is now a museum that gives a glimpse into the decor and life of a noble residence.
The Casino dei Principi was restyled from a rural farm building between 1835-1840 in neo-Renaissance style, used as guest quarters to host events. Perhaps the most appreciated house is the Casina delle Civetta, a whimsical and unuqusal hodge-podge of styles that is more Alpine-inspired than any other building in Rome. The eccentric home has steep peaked roof-lines and interesting angles. It is named for the recurrence of owls in the stained glass windows and decorations. The house hosts a museum dedicated to stained glass.
The complex was rented by Benito Mussolini starting in 1925 as his residence, and he lived here until 1943, though the structures and gardens were well maintained. The allied forces took it over in 1944 and the overall upkeep suffered for a few years, especially after its abandonment. The City of Rome took it over and restored it in the 1990s, bringing the buildings and garden back to their original splendor.
Been there? Done that? Share your experience and tips!
Haven't visited yet? Have questions about Villa Torlonia? Ask them here!
Address in Rome:
Via Nomentana, 70.
Ph. +39 060 608.