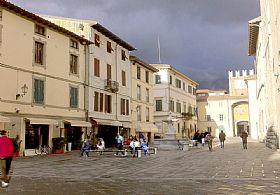 The city of Camaiore sits in the hills and while it looks like an average-sized town, it is actually an extensive place. The old walled city in the hills is only a part of the municipality, which extends from the Apuan Alps to the Mediterranean Sea. It is, in fact, a network of 24 frazioni (hamlets) and has a combination of scenery not found in any other municipality - from mountains, to hills, to plains to seacoast, all in one town!
The primary city, Camaiore itself, is the historic hill town founded in 190 BC by the Romans who left Lucca to establish outlying fortifications below Mt. Prana. It was named Campus Maior. Sacked by the Goths and Byzantines, it was reclaimed by Lucca with the help of the Longobards. It was atacked by the Pisans and Normans, so they decided to build defensive walls, which were completed in 1380, but they unfortunately didn't keep out the Sforza forces from Florence in 1440. It was again under Lucca in 1470, and the Arco Trionfale built to celebrate.
The city of 30,000 inhabitants is lively with a lived-in feel, plenty of shops and restaurants and cafes to keep people in town, pretty streets to meander, and architectural gems to gaze at. It is picturesque with narrow lanes and Tuscan charm. Check out the Museum of Sacred Art in Palazzo Tori-Massoni or the Archeology Museum for some cultural diversion. The Pieve of Santo Stefano was the first church in Camaiore, built in 817 along the Roman road, Via Francigena. Done in what came to be known as Romanesque Lucchese style, it was from this church that Christianity was spread throughout the area. There is a stone bell tower and lovely triptych to enjoy here. The Abbey of San Pietro is another historic church, built in the 12th century by the Longobards. Its simple style was retained though the original chapel was enlarged.
For active outdoorsy types, there are trails for hiking and mountain biking up in the Apuan Alps: Mt. Prana, Mt. Matanna and Mt. Gabberi are just above Camaiore and you'll pass hamlets and castles along the way that are part of its territory. The best known part of Camaiore, though, is the Lido, or beach resort. Built after World War II, it became a mecca for sun seekers and sea bathers. While it is between more famous resorts like Viareggio and Forte dei Marmi, Lido di Camaiore is well tended and offers more than 4 kilometers of find sandy beach on the Mediterranean shore. There are establishments that rent umbrellas and sun beds, have restaurants and bars, and there are free beaches sprinkled in, too. The focal point of Lido di Camaiore is the Pontile, a sculptural walkway on the water that takes boardwalks to an architectural level. The beautiful, sweeping double-decker "bridge" is a great place for a sunset stroll.
Nearby, you can visit the art city of Lucca, a gorgeous place of gardens, medieval and Renaissance buildings, still enclosed inside its old walls. In fact, there is a wonderful walk on top of the walls that you should enjoy. Torre del Lago is another worthy attraction, a tranquil pretty spot that was favored by the composer Puccini, who lived and worked here. There are summer concerts of his operas and a nice stroll along the little lake. Pisa, Massa and Carrara are a short drive away, too.
Events include the Palio dei Rione, fun and games for the hamlets and city to compete and come together in civic pride. There are singing and dance competitions, games of skill, and a Miss Palio pageant. The Palio dell'Assunta, originally a horse race around the walls, is now an opulently costumed parade along the same route in honor of the Feast of the Assumption.
Camaiore is in Versilia, an area of Tuscany known for its olive oil and wine production, so be sure to sample those goodies! They also produce strawberries and flowers here. There is a festival dedicated to the strawberry in spring. Try the Scarpaccia, a zucchine tart, and the tordelli, a type of ravioli stuffed with meat, boiled greens and parmigiano cheese, both unique specialties of this zone.
Been there? Done that? Share your experience and tips!
Haven't visited yet? Have questions about Camaiore? Ask them here!
Explore nearby towns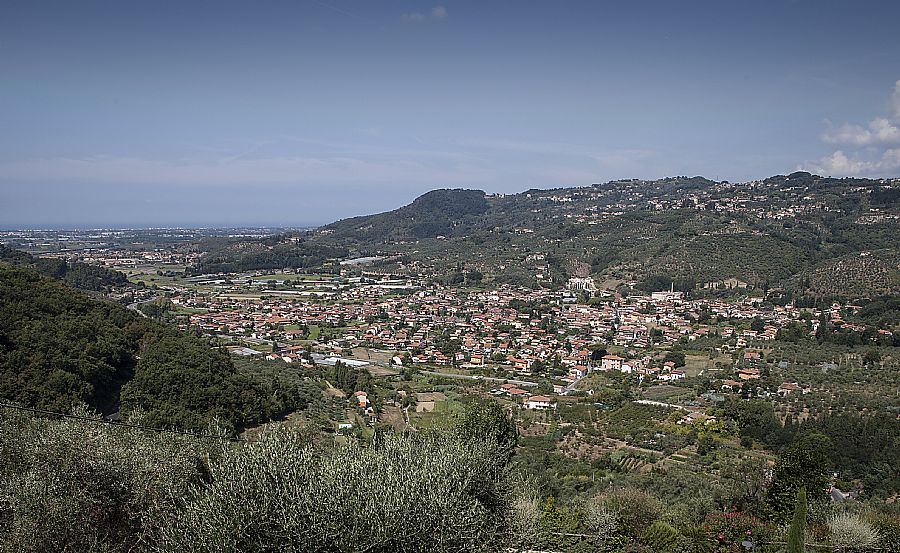 The well-served village of Stiava is a part of Massarosa and was more populated than its big sister until a few decades ago.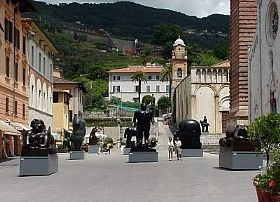 Pietrasanta, also called "The Small Athens", offers a great cultural and artistic heritage.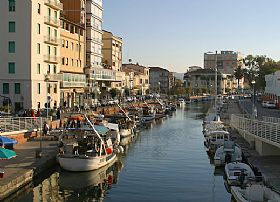 A millennium ago, the area where nowadays is Viareggio, was fully covered by the sea and the nearby countryside used to be a huge marshy area.