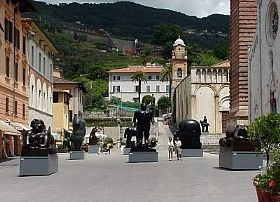 Pietrasanta, also called "The Small Athens", offers a great cultural and artistic heritage. The city boasts a remarkable tourist vocations, the marine area is a popular seaside resort and its mountains represent a fascinating destination, too.
The town dates back to the Roman era and had a wall as defense, mostly gone now. It was officially founded as a town in 1255 when built over a Lombard fort by Luca Guiscardo Pietrasanta. The town was in a struggle between Genoa and Lucca for years in 1300-1400's, and then the Medici's took control in 1484. Malaria caused a decline of citizenry, but in 1841, Duke Leopold Lerona started a rebuild to a more grand state. That also led to the promoting of art and sculpture as a prime asset for the teaching of the art.
The fat looking statue in the Piazza dell Statuto is by Fernando Botero and donated to the town in 1992. It represents the struggle of fighting and is called "Il Guerriero".
The extraordinary beauty of the old town centre perfectly combines with the marble craftsman's studios, the renowned bronze foundries and art workshops where to find marvellous mosaics appreciated all over the world! Via Mazzini is the main street that has most of the shops to purchase local items and for tourists. The medium sized town of 25,000 people allows you to casually shop, while not worrying about tourists crowding the areas.
The local artistic patrimony is doubtlessly linked to the vicissitudes of the city: it includes precious pieces of art attributable to famous masters of sculpture: historical researches have recorded the passage of Michelangelo, who lived here while choosing the marbles from the local caves and here negotiated to purchase the marbles for façade of San Lorenzo in Florence.
Illustrious citizens were: the poet Giosuè Carducci; the great Piarist scientist Padre Eugenio Barsanti inventor, along with Felice Matteucci from Lucca, of the internal-combustion engine.
Been there? Done that? Share your experience and tips!
Haven't visited yet? Have questions about Pietrasanta? Ask them here!
Explore nearby towns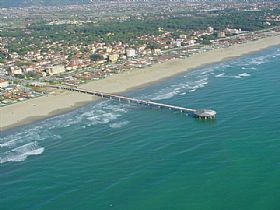 On Tuscany's Versilia coast, the town of Marina di Pietrasanta is a resort with some of the area's best beaches.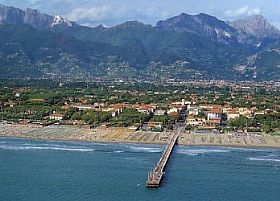 Delightful tourist destination, Forte dei Marmi is really enchanting, especially in summer, thanks to the beauty of the sea and magnificent background of Alps Apuane.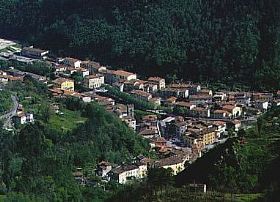 Seravezza, close to Lucca, is set like a gem among the huge rocks of the Garfagnana mountains.