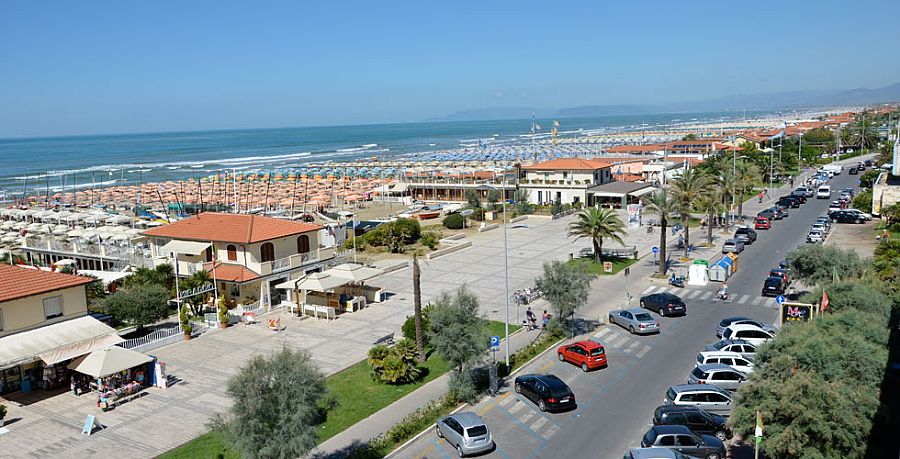 Lido di Camaiore is the beach resort for the town of Camaiore, located just north of Viareggio on the Tuscan Mediterranean coast. The town enjoys a vast and expansive 4-kilometer stretch of golden sand beaches, with plenty of places offering shady umbrellas or tents with beach chairs, along with waterfront restaurants, bars and cafes.
The central focus is the Pontile Bellavista Vittoria, a grand name for the elegant sweeping pier that juts into the water, offering a beautiful place to stroll and take in the views and sound of the waves beneath the pier. It has a two-level observation deck, and a bar where you can enjoy a glass of prosecco or aperitivo and watch the sunset. Viale Europa is the seafront promenade, with the beach on one side and shops, restaurants, gelaterias, and pizzerias on the other.
Lido di Camaiore saw a Roman presence and was heavily contested in the battles between the competitive city-states of Lucca and Pisa, but remained rather uninhabited until the 1800s because of its marshy tendency. Once the marshes were drained, the first main streets were built and hotels followed. Lido di Camaiore quickly became an elegant seaside destination that drew artists, writers and actors to enjoy their summers here. Many of the buildings were constructed in the pretty Liberty Style. It became larger and more popular in the post-war period, and remains a resort destination.
The town offers plenty of art exhibits, concerts, festivals and cultural events. The town itself outfitted a free beach to offer shade, restrooms and showers to everyone (so you can bring your own umbrella and not have to pay at a concession beach, if you don't want to!). There is a bike path that goes from Viareggio to Forte dei Marmi and beyond. Just a short drive inland puts you into the Apuan Alps mountains where you'll find walking trails, horse riding, mountain biking and a bit cooler clime.
Lido di Camaiore is close to some popular cities, like Lucca, Pisa, Carrara and Massa, as well as Viareggio.
Been there? Done that? Share your experience and tips!
Haven't visited yet? Have questions about Lido di Camaiore? Ask them here!
Explore nearby towns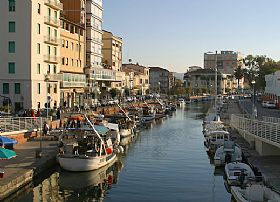 A millennium ago, the area where nowadays is Viareggio, was fully covered by the sea and the nearby countryside used to be a huge marshy area.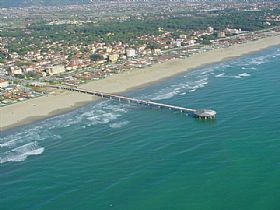 On Tuscany's Versilia coast, the town of Marina di Pietrasanta is a resort with some of the area's best beaches.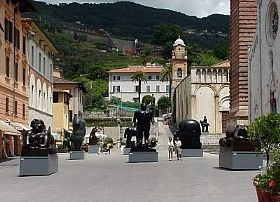 Pietrasanta, also called "The Small Athens", offers a great cultural and artistic heritage.