Walking Around the Amalfi coast, Sorrento and Capri
Julian Tippett, author of "Landscapes of Sorrento, Amalfi and Capri"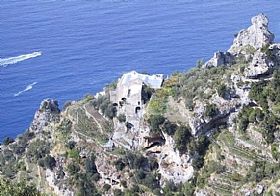 Unknown to most tourists, wonderful networks of footpaths criss-cross the peninsula and Capri, connecting little villages by easy paths and venturing on rougher ways up into the mountains. Visitors can plan simple walks of varying lengths often starting right outside their villa, allowing them to enjoy fantastic views whilst getting a feel for authentic Italy. The friendly local people you come across on foot could be pruning their vines, picking lemons or carrying supplies by mule to a remote house, a million miles from the tourist guide or souvenir vendor you meet in town. Experienced hikers can stretch their legs on stony trails high up in the mountains, guided by the red/white marks painted by the local Alpine Club (CAI), followed by a cool beer in a village bar at the end of the day.
Along the Amalfi coast the terrain is very steep, the bonus being spectacular views around every corner, but with the effect that paths are often built as stone steps. It helps to take your time to avoid getting out of breath or maybe take a bus to a higher starting point and walk mainly downhill. Mind you, going down a lot of steps can be hard on the knees too. If you are at all worried by this warning, just start with modest plans to get a feel for how the paths play out for you; judging by my fan mail few people are much bothered. At the Sorrento end of the peninsula and on Capri you'll meet fewer steps as the terrain is mostly more forgiving there.
How do you get onto the paths?
An obvious answer is to buy my guidebook "Landscapes of Sorrento, Amalfi and Capri" which gives detailed directions to footpaths on the whole of the coastline west from Maiori, including Ravello, Amalfi, Praiano, Positano and all of the peninsula behind Sorrento. It offers a number of routes on Capri. The network is divided up into 72 "segments", with instructions given for how to walk each segment in either direction. Walk planner maps help you put together a walk of just the length you want by selecting and combining these segments to form a specific route. You can take account of where the bus will drop you and how much climbing each segment demands. Illustrated in colour, general sections of the guidebook contain lots of practical information useful to walkers including how to use the public transport (with timetables). Motorists can sample some mini car tours helped by a touring map to get you to some interesting out-of-the way places.
Maps
These maps obtained locally are good for walkers.
Cart & Guide maps nos. 1, 2 and 3. These cover the Amalfi coast from Vietri sul Mare in the east to Positano in the west at a scale of 1:10,000. They show the available footpaths in great and accurate detail between the village and towns,
but are somewhat sketchy in the higher hills. Coverage:
Map 1: Vietri sul Mare to Minore
Map 2: Maiori to the eastern edge of Praiano
Map 3: Conca dei Marini to Positano
The maps are widely available in newsagents, bookshops and other outlets.
For the Sorrento peninsula the tourist offices in Sorrento, Massa Lubrense and Sant'Agata issue and excellent map free of charge.
Getting to a Walk - car or bus?
Having a car is a mixed blessing. If your villa lies away from bus services a car will get you to your walk easily, but everywhere along the Amalfi coast road from Positano to Maiori and in Sorrento you'll find parking a nightmare. Parking in the little villages in the hills away from the coast road is easier. Two tips for car users:
1. On a circular walk, start and end the walk in a small village en-route where the parking will be easier, e.g. you want to go from Amalfi to Ravello up one way and back down another, so park in Pontone or Scala which lie on one of the routes.
2. Consider using a bus to get to the start, or back to the car at the end, e.g. park at Pogerola above Amalfi if you want to walk to San Lazzaro, followed by the Via dei Villaggi path back down to Amalfi. You'll be tired by the time you get there, so take the bus back up to your car (hourly service approx).
If you can get to Amalfi or to Sorrento easily from your villa, or a number of other more minor centres like Ravello or Sant'Agata, you will not need a car for your walking; use the bus services that radiate from those places to connect to the start or end of your walk. Or work out a walk parallel to the coast road and return by bus along it. Once you are on the bus routes, then walk planning becomes easy. My guide book gives the detail of bus routes, how to use them, and times. Timetables change for the summer season which runs Easter to the end of October.
Walking Season
Put simply, any time between September and June. Best for walking temperature are Spring, when the wild flowers are at their best, and autumn, promising chance meetings with fig trees groaning with ripe fruit overhanging the path. The sea temperature is fine for swimming then. Summer is too hot for anything more than a stroll. Winter sees many fine days, but you might sometimes get raw days with a biting wind at 5°C/40°F at sea level and a sprinkling of snow on the tops. At any time you must reckon with the chance of rain, so pack your waterproofs and woollies just in case
Gear
Apart from the above, the best footwear mostly is training shoes or similar. Boots are needed in the mountains and I prefer these at all times in winter as the paths can get slippery in rain. Apart from in winter take long sleeves and a sun hat. For food, either plan to stop at a village with pizzeria or bar, or take a picnic. Alimentari will make up simple bread rolls filled with ham or cheese of your choice. Add a bit of fruit and Bob's your uncle. Take ample water supplies - either bottled or tap - even two litres each on a hot day. And don't forget your SITA bus tickets for the return journey in case you can't get them where your trail ends or the bus is just coming round the bend.
How to get "Landscapes of Sorrento, Amalfi and Capri" by Julian Tippett
To start enjoying your holiday now log onto http://www.sunflowerbooks.co.uk published by Sunflower Books.It's also available on Amazon (select 'books' and 'Sorrento Amalfi Capri').
Been there? Done that? Share your experience and tips!
Haven't visited yet? Have questions? Ask them here!