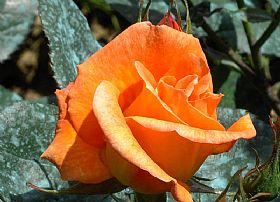 A short Italian trip, discovering the most beautiful varieties of this enchanting flower and specialized garden centres. A number of lovely destinations for all rose's lovers…. We really hope you will like it!
White, yellow, pink or red. With simple corollas of only five petals or ultra-double ones with more than 40 petals. The experts divide them into three large groups: botanical, ancient and modern. Some are small, even better a miniature, some others creeper and sarmentous, some others upholstering and ground-covering. Many do smell of dew and fresh cut grass, but also of lemon, peach, apricot and even musk, vanilla and may-lily. Sometimes they are simply marvellous even in autumn, when the leaves are tinged with red, orange and yellow, while the flowers give place to round berries.
Et viola the roses: a lovely world, populated by more than 20000 varieties, counting a huge number of lovers... Follow our itinerary among garden centres, parties, market exhibitions and rose-gardens, where to admire the most stunning species.
The botanical roses are the ones that grow spontaneously in nature, such as the dog-rose findable along mountain paths.
The ancient ones are the roses selected before the 1915, as result of interbreeding among Sinensis Rose, Damascena Rose, Gallic Rose and Dappled Rose are usually very scented. Would you like to know more about them?
Pistoia: Just visit the marvellous Barni's garden centre in Pistoia (via del Castello, 5 – Tel. +39 0573 380 464) expert rose's sellers from 1936. Their catalogue is a must for any roses lovers, it includes more than 330 varieties.
Beside the ancient and botanical species, there are many fantastic modern roses, among which we must mention the lovely English roses of David Austin, cup shaped flowers, extremely scented. There you will even find Lilliputian rose gardens: 50 centimetres (about 20 inches) high bushes, perfect into your house garden, to make hems and multicolour flowerbeds, as well as onto your terrace. You cannot miss some beautiful creeping roses, the ones with big flowers, like Anna Fendi: dedicated to the popular fashion stylist, shows off incredibly beautiful ochre and apricot coloured corollas, shading into pink cream towards the external petals. Imperatrice Farah, a sumptuous last-longing rose (even if cut), with ivory white edged of carmine red. The Barni's family is doing specific researches in order to discover new flower's varieties. A long hybridization and selection process that could last even six, eight years, having seen that about 60.000 seeds and 500 interbreeds to obtain only 3, four new varieties.
A hard but profitable job, indeed, which has borne the creation of new species like the "Tuscane": re-flourishing, vigorous and particularly resistant at the Mediterranean climate and any type of disease. In may Barni's garden centre organizes "Sublime Rosa", a great opportunity to visit it and buy some roses cultivated in pot.
Viterbo: Vivai Michelini (Strada San Salvatore, 9 – Tel. +39 0761 251 469) If you ask there: "what is your speciality?" They will surely answer: "Every single Mediterranean plant!" An impressive expanse of no less than 10 hectares (25 acres) for a stunning collection of : myrtles, cistus, olive trees, holm-oaks and cypresses. The Mediterranean maquis's smell is so strong down there, and yet you cannot help but notice them: the roses!
The are over 350 varieties, among ancient, like Gallic, Damascena, Dappled and Alba, and modern ones, like the charming Gruss an Aachen: an hybrid type of Polyantha, with skin-pink and cream-white flowers. Unmissable is the historical Italian Clementina Carbonieri, an hybrid type of Tea, which can be even 130 centimetres (51 inches) high, blossoms all over the summer until the beginning of autumn and gives splendid nankeen red corollas when it is in bud, then violet-pink with external petals enlightened by a bright saffron yellow. The Michelini's family are able to offer, in co-operation with other important landscapists, a great service of creation and maintenance of our green spaces. So if you would like to get some tips about cultivating roses rather than coupling them into your garden, avail yourself of the opportunity to visit the centre on the penultimate weekend of May.
Terni: Le Rose di Piedimonte (Via del Pozzo Saraceno, 104 Piedimonte (TR) – Tel. +39 0744 243 768)
Do you think that the major rose hybridizers come from abroad? That Italy has never had breeders as important as the English Pemberton (who discovered and selected hybrids of re-flourishing and very scented Dappled), the German Kordes (the father of the chill-proof rose) rather than the French Guillot (the creator of the 'modern' variety) and Pernet-Ducher (the author of the first yellow rose)? Just make a jump into Le Rose di Piedimonte, nearby Terni, and you will change your mind.
Here Rita Oliva, ex-manager and rose lover, will accompany you all inside her magnificent garden centre on top of the sweet green hills of Umbria, discovering the most beautiful made in Italy historical roses, telling you their stories. Italy has a quite recent roses tradition: the first Italian rose, Bella di Monza, was been made by Luigi Villoresi, director of the Royal Garden of Monza (at about 40 Km from Lake Como), only in 1826. From then on, the breeder Bonfiglioli as first, Domenico Aicardi and Quinto Mansuino, later, had created incredible varieties like Eterna Giovinezza, with pale pink double flowers; Gloria di Roma, with cherry-red corollas; and Purezza, with little white flowers, semi-double and extremely sweet-smelling, that crossed the Italian frontiers and nowadays are embellishing half Europe gardens. Beside these varieties, Rita's garden centre, offers a gorgeous event called "Giorni con le rose" (days with roses) in May, when you will be able to admire rare collections of botanical, modern and ancient roses, such as Damascene, Alba, Centifolia and Rugosa.
Cavriglia (Arezzo – Tel. +39 055 916 6237): the Rose Garden of Carla Fineschi of Cavriglia, extends itself onto no less than 2 hectares (5 acres) of a lovely garden that counts more than 7000 exemplars. This is the ideal destination for anyone who wants to have the first real approach with the magic roses world!
Here every single variety is divided into various sections among species, sub-species and hybrids. A special label distinguishes every plant's name, year of cultivation in Europe and, in cases of hybrids, date of birth and hybridizer. The best period to visit the rose garden is between April and June.
Rome: Municipal Rose Garden of Rome (Via di Valle Murcia – Tel. +39 06 574 6810)
This will be a really unique place for your eyes, thanks to the special position – lying at the foot of Aventino, just above Circo Massimo, it offers a stunning view of the whole capital. It houses about 1100 types of roses coming from all over the world, including China and Mongolia. Among the most enchanting ones, we must mention the wonderful Rosa Chinensis Virdiflora, with green petals; Rosa Chinensis Mutabilis, that changes colour every day; Rosa Foetida, which is not exactly sweet-smelling ;-)! The rose garden is open every day from 8 am to 7.30 pm.
Been there? Done that? Share your experience and tips!
Haven't visited yet? Have questions? Ask them here!