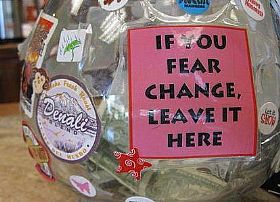 This topic has always been much debated -- but people continue to weigh in on tipping versus not tipping.
Should I tip or should I not? And how much money should I give? Usually the decision is based on how "helpful" the service was and the amount depends on the bill, better if it is not too expensive! The majority of tourists consider the tip an essential habit... well, the best advice is: "When In Rome, Do As the Romans Do" :-)
The word "mancia" (Italian for "tip") comes from the French "manche" (sleeve), which was the sleeve that the ladies gave the knight in chivalrous ceremonies. It is now an acknowledgment for the care received. With the tip one rewards those who have served with particular zeal and kindness, but of course none should feel obliged to do it if he/she was not treated well. The gesture must be discreet, veiled and does not have to force the waiter to reach out. At the restaurant a tip is left on the plate of the bill or directly to the cashier, who will be glad to tell the waiter about your "attention".
In most sit-down Italian restaurants, especially the nicer ones which have no counter service, you may find both "il coperto" and "servizio incluso" written on the menu. "Il coperto" is the cover charge, which is generally one or two Euro, and which takes care of things like bread before the meal and a glass of tap water. "Servizio incluso" means that service is included, meaning they've already figured in a tip for you – it's usually around 15% – so the total due on your final bill is all you'll owe. Most Italians do not tip in these cases, except when the service and quality are truly special. In bars, Italians often leave a few coins for a coffee or whatever.
If you're paying cash, you can just round up to the next euro and call that your tip if you'd like. If the service has been particularly outstanding or you've had an exceptional experience, you can add 5% or 10% tip and put it on the table. It is also a lovely gesture to let the waiter know.
This same rule applies with taxi drivers (or private transfers) in Italy, too, by the way. A tip is not necessary and sometimes it's not expected at all, but if you want to thank a driver for dealing with your heavy or plentiful luggage, or if you've had a nice chat, or whatever, you can just do a "keep the change" routine (in Italian, this is "tenga il resto") to not get the leftover coins back from your euro notes. Again If you feel you really want to leave something more, a 10% would be fine!
At the luggage porter: you can give 1.50 EUR per bag.
For tour guides it depends on the kind of service provided, but typical 5 - 10% is sufficient.
To the hairdresser: again tipping is not a must here. Of course it is always nice thing to do, but it's entirely up to you! In most cases we let them keep the change.
Been there? Done that? Share your experience and tips!
Haven't visited yet? Have questions? Ask them here!