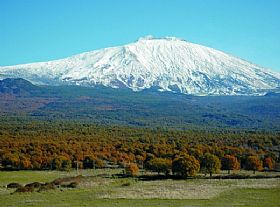 Mount Etna is an unmissable sight and an undeniable attraction in Sicily. The Parco dell'Etna is the first and largest national park in Sicily, dedicated to maintaining safe access to the towering volcano, which reaches a peak of 3,300 meters and offers a rich natural environment that is marked by varied sounds, scents and colors. The simmering and spurting volcano is Europe's highest.
The landscape and flora are vastly varied - from barren wastelands at the top to forests of pine, beech and birch trees towards the middle, and thriving groves of fruit and hazelnuts, chestnuts, olives and pistachios at the base. The rich soil has given the Sicilian people an agricultural abundance of fruits and vegetables, many of which are shipped to the Italian mainland and other parts of Europe. There are vineyards that make some stellar vinatages, as well.
Because of its elevation, snow is common in the winter and there is are ski runs available. In summer, hiking tours and jeep outings are available to enjoy the unique mountain and its views. In one day you can pass through craters, valleys, caves and peaks. There are also several towns within the confines of the park to explore. Trail maps and guide services can be found at the visitors centers, which are located in Milo and Linguaglossa. A cable car that transports you to a certain elevation is found outside Nicolosi. From the top of the cable car, you can take a jeep ride to reach the top, or take advantage of the paths through the daring world of sand and rocks.
But Mt. Etna is constantly changing: eruptions are frequent, lava flows, shifts, and hardens. Craters collapse and new ones form. It is a landscape in flux. The upper mountain is shaped by the lava while the lower part is shaped by human hands, that eke out a living and grow their crops. Etna is more than a soaring sight to see; It is a unique national park to visit.
Been there? Done that? Share your experience and tips!
Haven't visited yet? Have questions about Parco dell'Etna? Ask them here!