The Ancient Italian Maritime Republic Regatta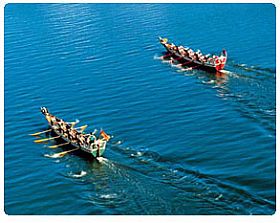 The Regatta of the Ancient Maritime Republics is an annual event like no other. Every June, the four former powers that controlled the seas around Italy go back to battle in an attempt to once again lay claim to maritime greatness, not by invasions or trade wars but by historic-modeled rowing galleons manned by 8 strong and proud citizens. Amalfi, Pisa, Genoa and Venice take turns hosting the regatta, which pays homage to the former republics' histories and dominance. Initiated in 1954, the regatta is an opulent affair that is much more than a mere boat rally.
The gala begins with the pomp and splendor of a parade with hundreds of participants in period costumes perfectly detailed from the Middle Ages. The streets are festooned with flags while heralding trumpets and rhythmic drums lead an elegant shore-side procession that includes horses and sedan-chairs, while ladies and lords re-enact themes that represent historic events and figures of each Republic's past. There are cultural initiatives, historic displays, and general merriment during the events.
The regatta takes place on the sea in slender rowing boats called "gozzi". Each is painted distinctively for its republic: Blue for Amalfi; green for Venice; white for Genoa; and red for Pisa. The rowers pump their oars along the 1.2 mile course to take home the coveted trophy and bragging rights, to be enjoyed until the following year's competition.
The Regatta of the Ancient Maritime Republics is a colorful and exciting event that reminisces of the past power and grand glory of medieval seafaring cities with the pretty ports as a beautiful backdrop.
Been there? Done that? Share your experience and tips!
Haven't visited yet? Have questions about The Ancient Italian Maritime Republic Regatta? Ask them here!