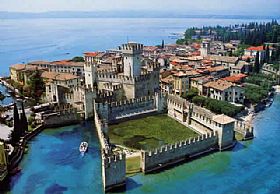 Sirmione is not just attractive, it's an attraction in itself. The castle town on a skinny peninsula that juts into Lake Garda is a must-see if you're in this area. The storybook castle is the centerpiece and defining landmark of Sirmione, with its moat and drawbridge and fortified presence that make it the symbol of the town. Beyond are intriguing cobbled lanes lined with stone and stuccoed buildings boasting flower boxes, linked by archways and punctuated with courtyards. Slender alleys open into little piazzas with outdoor cafes. In short, Sirmione is the one town on Lake Garda that is all about the ambiance rather than the lake.
On the southern end of Lake Garda, Sirmione is a historic city that was inhabited in the Bronze Age but became a popular Roman resort thanks to its natural hot springs. It was ruled by the lords of Verona and then passed to the Republic of Venice, which ruled it from 1405 until its fall in 1797. The Roman poet Gaius Valerius Catullus was from here and his family had an extensive villa. The remains of a Roman villa that may or may not have been his are on display at the Grotto di Catullo on the tip of the peninsula. Lord Tennyson praised it in a poem and other writers and celebrities have drawn to its unique and beautiful atmosphere through the centuries.
The skinny isthmus offers views of both sides of the lake, with rocky peaks rising to the west that turn soft hues at sunrise and sunset. The town is well-kept and pretty, a delight to wander and enjoy the charm of an ancient town. Sidewalk cafes and restaurants abound, so taste the lake's fresh offerings and enjoy a gelato in the sunshine, surrounded by aged buildings with painted shutters and awnings.
The Terme di Sirmione still offer relaxing soaks in hot springs, its mineral-rich waters having curative properties. Gardens and nature parks are nice green spots, and the port is a pretty backdrop that still moors boats and welcomes ferries. The Church of Santa Maria al Ponte is interesting, with a chapel that is part of the castle's garrison with brick vauled ceilings. Locals often refer to it as the Church of Sant'Anna, for the beloved fresco that they say depicts the mother of the Madonna.
Sirmione is a true jewel. It is near Brescia and Verona, and in reach of the area's art cities and the lake's sporty spots, too.
Been there? Done that? Share your experience and tips!
Haven't visited yet? Have questions about Sirmione? Ask them here!
Explore nearby towns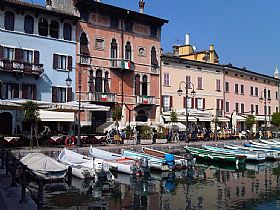 One of the largest towns on Lake Garda, Desenzano del Garda is a great choice for seeing the area.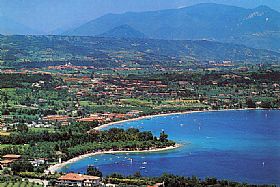 Manerba del Garda is on a spur in the lake with a panoramic point that leads right out to the water.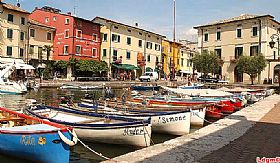 Lazise is one of Lake Garda's most picturesque towns.