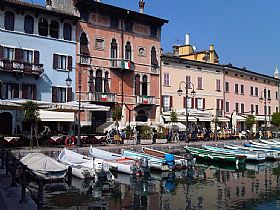 One of the largest towns on Lake Garda, Desenzano del Garda is a great choice for seeing the area. It is well-connected with rail service, autostrada and ferry boats, and has great access to surrounding cities like Brescia and Verona. In fact, it developed during the Roman era because of its location along the Via Emilia, which connected those two Roman cities, and then became a resort for wealthy Romans in Verona to relax and escape the city. It is still a destination all these centuries later, but not just for the imperial elite.
The city is big enough to offer everything in the way of services and fun, and even nightlife, while being small enough to be enjoyable. The piazzas are bustling and full of life, with shops and cafes, while the boat marina is flanked by sidewalk cafes and colorful buildings. It is a romantic and spirited town, with plenty of gorgeous views, a lovely lighthouse, and the majestic Alps as a backdrop. A medieval castle adds to its allure, with round and rectangular towers rising from it. The Lungolago Anelli is a shore-side promenade, and the lake's beaches are good diversions for summer fun and sun. The Piazza Malvezzi is the hub of civic life. It is here that you'll find the weekly mercato every Tuesday, and the Sunday antiques market.
Desenzano is the headquarters of Grana Padano cheese, a prized aged cheese used for grating or munching, much like the protected Parmigiano-Reggiano. The Duomo is a cathedral dedicated to St. Mary Magdalene that showcases the Last Supper by Tiepolo. There is an impressive Archeological Museum with prehistoric and Roman finds, and the remains of a Villa Romana that dates to the 3rd century BC and has incredible mosaics of detailed scenes as well as frescoes. The House of St. Angela Merici is popular with religious pilgrims, the founder of the Ursuline order.
There are excellent shops, plenty of restaurants featuring the area's cuisine, and gelaterias for a creamy summer treat, along with nightclubs and stores that serve your everyday needs and vacation whims. Desenzano del Garda is near Sirmione on the south side of Lake Garda, in easy reach of Brescia and Verona, with Mantua, Cremona and Piacenza not too far afield for day trips.
Been there? Done that? Share your experience and tips!
Haven't visited yet? Have questions about Desenzano del Garda? Ask them here!
Explore nearby towns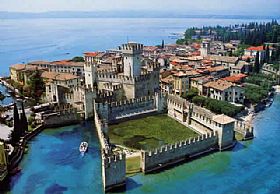 Sirmione is not just attractive, it's an attraction in itself.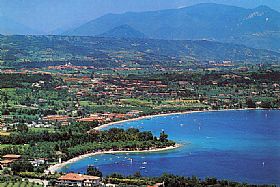 Manerba del Garda is on a spur in the lake with a panoramic point that leads right out to the water.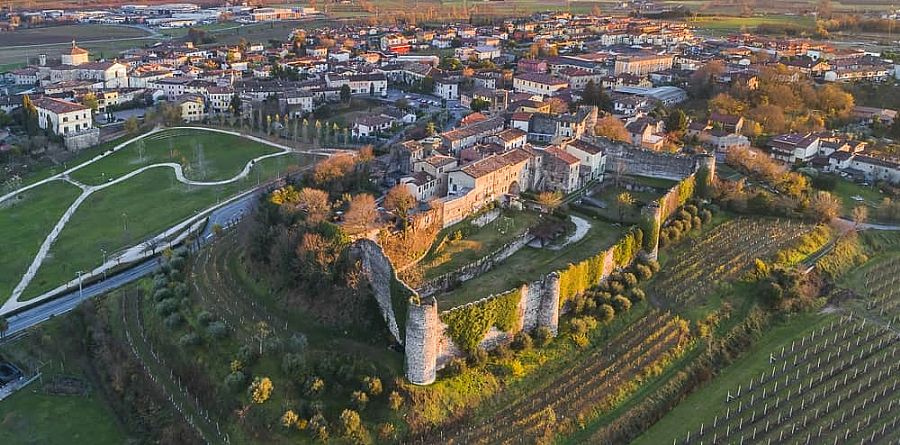 In the Brescia province of Lombardy, right where it runs into the region of Veneto, Pozzolengo sits just south of Lake Garda and basks in the low hills striped with vineyards.