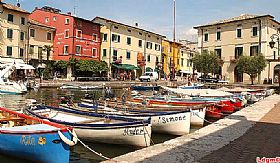 Lazise is one of Lake Garda's most picturesque towns. Sitting on the eastern shore, it has a beautiful waterfront and a medieval historic center full of shops and pastel buildings that resembles a town on the Riviera.
Picturesque, beautiful waterfront piazza, nice shops, pastel buildings on the shore resembles the Riviera. The colorful harbor still hosts fishing boats and pleasure crafts, and here you can rent a boat or catch a ferry to other towns. The port was once important during the dominion of the Venetian Republic. The arched stone building at the port was once the Dogana Veneta, the Venetian Customs House that controlled commerce on Lake Garda. Today it houses an art gallery and hosts summer classical musical concerts. The historic center dates to the same period, and maintains its alluring narrow lanes, while the surrounding area became popular with the wealthy Venetian and Veronese families who built palatial villas here. The 13th century castle is an enchanting sight, especially at night when it is romantically flood-lit, highlighting the towers and battlements. It is the scene of music concerts in the summer months.
Lazise's importance as a port is seen, ironically, below the water. A fleet of ships rests on the lake floor, deliberately sunk by its commander to avoid falling into enemy hands. There is also a submerged ancient village off the shore, making scuba an interesting activity on this part of Lake Garda! Water sports, golf courses, thermal spas, and nearby theme parks make Lazise a good destination.
Small beaches and grassy areas on the waterfront allow for swimming, and there is a lovely lakefront promenade for strolling. The checkerboard-paved piazza is a popular gathering spot, and the town offers an abundance of shops, restaurants and cafes to enjoy. Outings to visit the historic villas or to amusement parks are easy, and cities like Verona, Mantova, and Vicenza are doable, too.
Been there? Done that? Share your experience and tips!
Haven't visited yet? Have questions about Lazise? Ask them here!
Explore nearby towns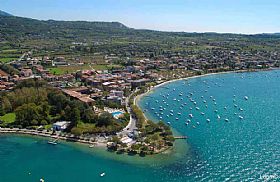 One of Lake Garda's gems is the town of Bardolino.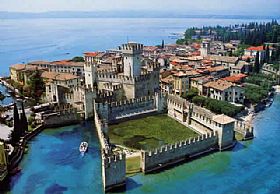 Sirmione is not just attractive, it's an attraction in itself.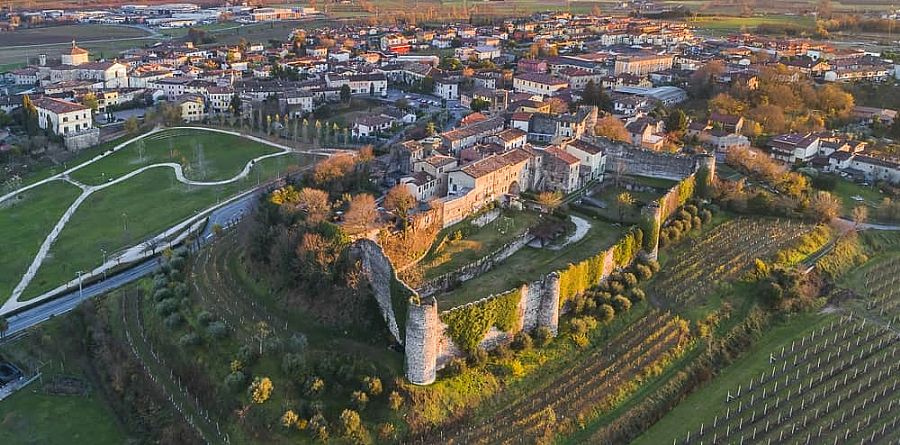 In the Brescia province of Lombardy, right where it runs into the region of Veneto, Pozzolengo sits just south of Lake Garda and basks in the low hills striped with vineyards.