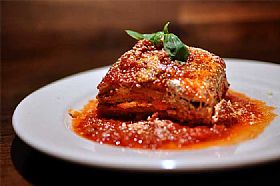 Eggplant (or Aubergine) Parmesan
This tasty meal is like a lasagne made with layers of eggplant instead of pasta. The dish is "Parmigiana" meaning "Parma style", but through the centuries other regions have laid claims to the origins of this popular plate. The Neapolitans say it comes from the cooks of their fare city, while Sicily touts that its origins are Greek, being closely related to moussaka, and that the word "petonciana", the Sicilian dialect for "eggplant" was corrupted into "parmigiana", which gave confusion to the origins. There may be mystery surrounding it, but there's no doubt that its popular and that the basic ingredients are the same: eggplant, tomato sauce, and parmigiano-reggiano cheese.
The eggplant can be fried, grilled or baked before constructing the final dish to be baked. The more traditional method is frying, but eggplant absorbs an incredible amount of grease, so modern cooks often bake or grill it for a bit healthier version. Most add thin slices of fresh mozzarella or provola cheese, too. In Rome, they often lay thin slivers of mortadella; others put in sliced mushrooms that have been sauteed in butter and deglazed with wine. There's lots of room for improvising in this recipe!
Classic Eggplant Parmesan - also called Parmigiana di Melanzane or Melanzane alla Parmigiana
2 round or oval eggplants
Tomato sauce
Parmigiano-Reggiano cheese, grated
Mozzarella or provola cheese, sliced thin
Rinse the eggplants, peel strips of the skin off them, leaving about half of it in stripes. Slice them evenly into rounds. At this point, decide if you want to bake them, grill them or fry them. (If you choose fried, most cooks lightly coat the rounds in flour and then fry them in olive oil. Drain on paper towels and let cool.)
In a casserole pan, put a little tomato sauce to coat the bottom, then lay out eggplant slices to cover the pan. Spoon on tomato sauce, sprinkle grated parmesan cheese over evenly, then lay slices of mozzarella. Repeat the layers until you've used up all the ingredients.
Bake at 190°C or 375°F for about 20-30 minutes, until it is heated through and bubbly and the cheese forms a nicely melted and golden crust on top. Let cool in the pan a few minutes, cut into squares and serve.
If you want more precise measurements and instructions, Mario Batali's eggplant parmesan recipe is one of the best, which really brings out all the flavors of the melanzana as well as the tomato and mozzarella.
Been there? Done that? Share your experience and tips!
Haven't visited yet? Have questions about Parmigiana di Melanzane? Ask them here!