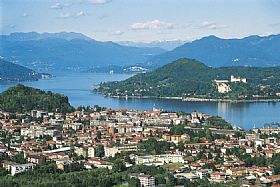 The pretty town of Arona sits lazily on Lake Maggiore. It's a relaxing and charming spot with a lakeside promenade, pretty piazzas and nice streets to explore. The views of the lake and the surrounding mountains are breathtaking. It's one the primary towns on the southern part of the lake, with rail and ferry services, and a busy port.
Arona developed as a Roman resort but grew exponentially in the Middle Ages, especially after it became the possession of the powerful Borromeo family, whose influence on Arona is seen even today. It was the home of St. Charles Borromeo, a prominent cardinal who founded several seminaries and instituted significant reforms during the counter reformation. The church of San Carlo alle Quattro Fontane in Rome is dedicated to the "saint of learning and the arts". A towering statue stands above Arona on the so-called Sacro Monte di San Carlo (the sacred mountain of St. Charles). It's called the San Carlone - a superlative of Carlo, for its sheer size. A pathway leads from Piazza del Popolo to the hillside sanctuary, where there are three chapels and the gigantic 35-meter tall sculpture (114 feet), which took 84 years to complete. Once erected on its granite pedestal, it was the tallest statue in the world until the Statue of Liberty was erected.
Another important sight is the Rocca, a military fortress that dates back to the 900s. It was reinforced in the 12th century to defend against the incessant attacks by Frederick Barbarossa (Red Beard). It was passed around various viscounts until it was ceded to the Borromeo family in 1439, who added an additional protective wall and a secret street. It was destroyed by Napoleon in 1800. The impressive remains are set in a park and enjoy views of the lake.
Arona is also home to a Mineralogy Museum, with displays of rocks, minerals, crystals and other geological phenomena, and an Archeology Museum, offering glimpses into the area's history that spans several millennia. Because it's a good-sized town with about 20,000 inhabitants, there's lot of life and plenty to do. You can linger over a cappuccino or glass of wine while enjoying the splendor of the natural beauty, enjoy a leisurely lake-side meal, or dive into some water sports. Hire a boat for a cruise around the lake or for some fishing. There are trails for hiking in the hills, along with horseback riding.
Arona is located in the southern section of Lago Maggiore, near Meina.
Been there? Done that? Share your experience and tips!
Haven't visited yet? Have questions about Arona? Ask them here!
Explore nearby towns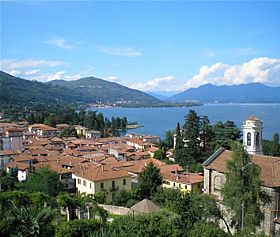 Meina is a graceful town on the shores of Lake Maggiore.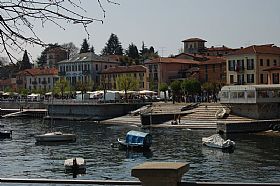 Lesa is a lovely little town on the shores of Lake Maggiore, halfway between Stresa and Arona.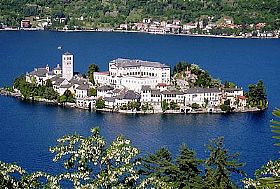 Orta San Giulio is a quaint town of pretty pastels, called "God's watercolor" by Italian writer Piero Chiara.