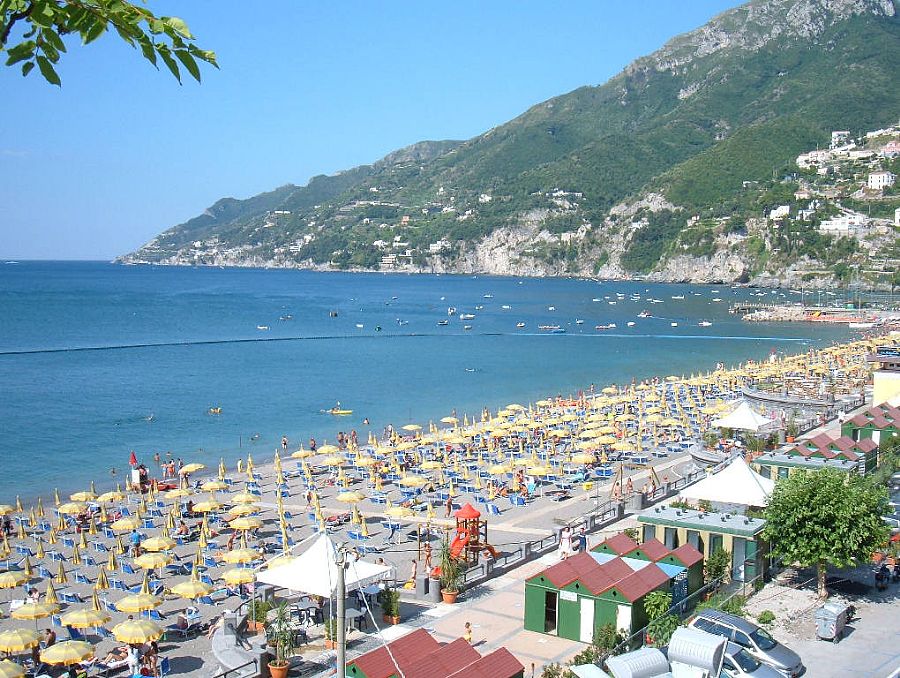 At the "start" of the Amalfi Coast road on the south side near Salerno, Vietri sul Mare is often bypassed as visitors head off for headliner towns like Amalfi and Positano. But that doesn't mean it isn't worth a visit! In fact, it has some of the wider and more accessible beaches on the Amalfi Coast!
Go to Marina di Vietri below town, where you'll find a long, wide swath of sandy beach tucked in between two rocky "walls". There are several areas of free beach along with several concessions that run cafes and restaurants and rent out umbrellas and chairs. You'll have your choice so take a look and see which fits your style. Most are in the same price range, so you can plan to spend between 15-35 per day, depending on month, day of the week, number of people, and which "fila" (row) you're in. Those in prima fila closest to the water cost more.
The Marina di Vietri is like a small town in itself, with a piazza where people gather and concerts are held in summer, outlined with restaurants and cafes. It has a fun, lively vibe all summer long!
A few examples of the beach concessions are listed here below. Interpersed between them are public free beaches where you can throw down a towel and enjoy the sea at no cost. You can, of course, take advantage of the services at the concessions for a fee: showers, restaurants and bars. For guests at the establishments, in addition to the showers and services, most offer changing cabins, and some offer pedal boats or kayak rentals, and may have playground for the kids.
Torre Crestarella. The first beach establishment closest to Salerno is below an ancient coastal watch tower and tucked into rocks, giving it a secluded feel. It's the more "exclusive" one, with a limited number of umbrellas and chairs and once they're filled, they don't allow more people on the premises. That means it never feels crowded. The beach looks at the faraglioni rocks peeking out of the water.
Rosa dei Venti. One of the largest, you will find plenty of beach stretching along the waterfront with umbrellas and chairs lined up, a restaurant and bar, and at night they turn on the music and the lights for a beach dance club.
Lido California Beach. Colorful cabins and ordered rows of umbrellas but also some sun beds tucked in under trees, this is a good choice for those who want more shade.
Lido Calypso. At the end of the beach next to Lido California, the Calypso has a bit more secluded feel, with some chairs and sun beds under the cedar trees where you can hear the splash of the natural spring that comes out of the rock. A sun deck and beach area means there's a balance for everyone's taste. A bar serves drinks, snacks and lunch. It's quieter than the larger, center beaches.
Been there? Done that? Share your experience and tips!
Haven't visited yet? Have questions about Marina di Vietri Beaches? Ask them here!
Address in Marina di Vietri:
Via Francesco Petrarca.