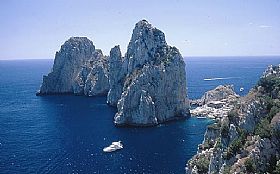 The signature sight of Capri is the three rocky "stacks" called I Faraglioni. The three rock outcroppings peeking up from the sea create one of the most recognizable and captivating landscapes in the world.
The name Faraglioni probably comes from the Greek "pharos", meaning lighthouse: in ancient times, these types of rises located nearby the coast were used as primitive lighthouses, topped by signal fires that were lit in the night to provide safe navigation. Greek and Roman sailors sail by sight along the coasts, not just to better get their bearings, but because of the possibility of pirates, too. This habit was extremely dangerous; crashing and running aground was not rare. Thus, the habit of signal fires on the shorelines' rocks.
The Faraglioni are noted world-wide because of the peculiar shape and enchanting sight of them rising out of the water along the coastline. They're best seen by boat or from the beaches of Marina Piccola. These gorgeous rocks are also famous for a rare species of lizard: the "lacerta muralis coerulea" -or simply "blue lizard"- characterized by a special blue coloration that is found only on the island of Capri.
The stacks range from 80 to 150 meters high. The first, still attached to the coast, is named Stella. The middle one is appropriately named Faraglione di Mezzo (middle) and has an arch in its rock. The final one is Faraglione di Fuori (meaning "outer") but is also called the Scopolo. Regardless of they're named, they're called "magnificent" by everyone who gazes upon them!
Been there? Done that? Share your experience and tips!
Haven't visited yet? Have questions about The Three Rocks of Capri? Ask them here!