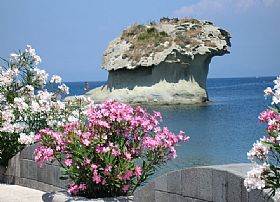 Lacco Ameno on Ischia is known for its giant mushroom that juts from the sea. While there are many legends about lovers and gods to explain the unique formation, the tufa rock called Il Fungo is the result of the volcanic activity that blessed the island with its hot mineral springs.
The town itself gets its name from the tufa stone: The Greek word lakkos means "rock". After the unification of Italy the municipality decided to embellish it a bit and added Ameno (Greek for pleasant). The result is indeed a pleasant place with a vibrant mix of rustic and upscale blending together. Lacco Ameno faces the beautiful Bay of Montano where rocky hills plunge into the sea and add interest to the landscapes. The nice shoreline offers both reefs and beaches, and boats bob happily in the bay.
Lacco Ameno is the smallest of the towns on Ischia. Its tree-lined streets and deluxe shops are attractive, accentuated by white houses, little churches and old palazzi facing the sea. Behind on Monte Vico is the Torre Aragonese tower that once watched for Saracen invasions, still standing guard. The main church is dedicated to the town's patron saint Santa Restituta and there is a museum attached to it. An archeological area Pithecusae displays the area's ancient origins.
Every May 16 Lacco Ameno pays homage to their patron saint with a grand festa in her honor. The "virgin saint" Santa Restituta was martyred in northern Africa and her body put on a boat, which was set aflame and put out to sea. The fire didn't consume her and the boat was guided ashore here "by the wings of angels" and her martyred body buried, and the church built in her name. The festa takes the statue of Santa Restituta aboard a boat for a benediction of the mariners. It is also the occasion to recall the sacking by the Turks in the early 1600s. They entered the church, knocked down the statue of the saint with a great scimitar and stole the bells from the tower. They loaded them in the boats and took off, but a storm came up and they were forced to throw the bells overboard to avoid sinking. The local fishermen dredged them out of the water and the storm immediately calmed.
Lacco Ameno and the Baia di San Montano are also known for two stellar attractions - the Negombo Parco Termale (hot springs park) and the beautiful La Mortella Gardens.
Been there? Done that? Share your experience and tips!
Haven't visited yet? Have questions about Lacco Ameno? Ask them here!
Explore nearby towns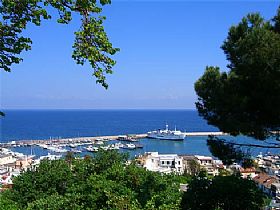 Casamicciola Terme lounges on the northern shore of the island of Ischia.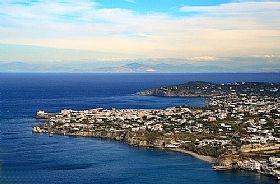 Forio is a picture-perfect town, perfectly framed in its seting between the colourful landscapes of Mount Epomeo and the crystalline sea.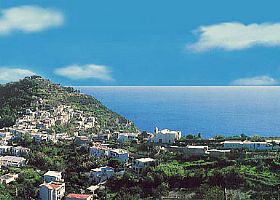 Barano is Ischia's second largest town and one that has kept its painstakingly planted and tended vineyards and vegetable gardens.