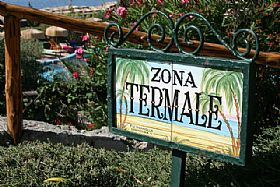 The incredible island of Ischia is one of the world's oldest spa resorts. It was popular with well-off Romans and was mentioned by Homer in the Iliad, as well as by Roman writers like Virgil and Pliny. It saw a resurgence in the Renaissance. Today, Ischia is a leading resort for relaxation and swimming in the naturally-warm waters thanks to the thermal activity caused by its volcanic past..
Here you'll find outdoor open-air hot springs, and even beaches where springs bubble up right in the sea! Another unusual feature is the fumarole, hot vapors that are emitted through the sand of certain beaches! There are also spas and even thermal theme parks. "Antroterapia" is another unique thing you'll find on Ischia - a natural sauna in caves that dot that dot the island's coast.
There are 29 groups of thermal springs, each with its own mineral characteristics. Often, people choose a particular spring to aid with different ailments, skin conditions or muscle relaxation. Here are some of the places where you can enjoy the thermal baths. Ischia is so experienced in spa tourism that they even have a hotline for people to call to find the right ones!
Thermal Parks
Poseidon Gardens. In Forio on the Bay of Citara, the thermal park of Poseidon Gardens is one of Ischia's most famous. It is a veritable spa theme park, with 20 pools of varying temperature and mineral content set amidst a lush garden of flowers and plants. There is even a waterfall to stand under for hydrotherapy! Spa and health treatments, such as mud masks, massage and facials are available. There is access to a private beach and restaurants on site, including one set in a grotto at the seafront. There is an entrance fee and reservations are needed for treatments.
Negombo. This famous garden and spa is in Lacco Ameno on the beautiful Bay of San Montano. It was created by Duke Camerini, a botany enthusiast who created a true oasis with the gardens and pools at the base of the hill where it meets the sea. There are several hot spring-fed pools, hydromassage, and spa treatments available. The property opens onto the beach of San Montano, The "tropical" beach of Ischia. There is an entrance fee for the park; reservations requested for the spa and health treatments.
Giardino Eden. The "parco termale" Garden of Eden is in the Bay of Cartaromana, surrounded by a beautiful park with four meandering pools. Low-key yet elegant, there are plenty of places for sunbathing and soaking, in the shadow of the Tower of Michelangelo. There is access to the beach across a little footbridge.
Castiglione. Set in a natural cove in Casamicciola, the thermal garden of Castiglione is a lush landscape of flowers and plants surrounding the park and beach. There are ten pools of varying temperatures, and one that is filled with cool sea water. They have a menu of spa treatments available and a private beach for guests' use.
OPEN HOT SPRINGS
Citara. The Beach of Citara in Forio was popular with the ancient Romans; a statue of the goddess Venus was found here. There are hot springs that bubble up right at the water's edge and the fumarole warm vapors on the beach.
Cartaromana. Natural hot springs mingle with the sea water here so you can swim even in the winter. There are rock pools to collect the thermal water for soaking in hot mineral water, like natural open-air hot tubs. Cartaromana is near the Aragon Castle.
Sorgeto. The Bay of Sorgeto is one of the best known and loved spots for luxuriating in the hot springs in a natural setting. Near the town of Sant'Angelo, it's like a thermal park that is free. Rocks hold the hot (sometimes scalding!) water in little pools. Open all the time, so you can soak under the stars if you want!
Sant'Angelo d'Ischia. Better known as the Fumarole Beach, this is where you can warm yourself just by laying on the sand. Steam spouts out of it and warm water gushes from a spout into the sea.
Maronti. Near Barano, there is a long beach where caves dot the cliffs that on the edges. Inside the caves are natural hot springs where you can enjoy both the hot water and the steam it produces, like an open-air sauna.
HOTELS
Countless hotels have their own thermal pools or spas. You don't usually have to be a guest at them to utilize the facilities, you'll just need to pay an entrance fee. They cost less than the thermal parks mentioned above. Take your pick!
Been there? Done that? Share your experience and tips!
Haven't visited yet? Have questions about Hot Springs on Ischia? Ask them here!