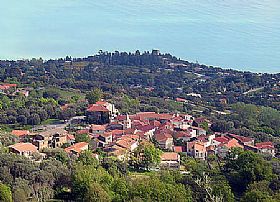 The picturesque village of Ispani rests lazily on the crescent curve of coastline that demarks the Gulf of Policastro. It sits up on the hill and enjoys beautiful panoramas of the turquoise bay below. It was built during the Middle Ages following Saracen raids on the coastal areas. The weary inhabitants moved uphill to safety. The now-tranquil town retains the typical characteristics of a medieval village with narrow stone passageways and homes huddled together. The stone and pastel buildings are festooned with chile peppers and abundant bougainvillea.
Ispani is a quiet corner on the resort route, but it bursts into song once a year with the Jazz Festival that brings in big name musicians and admiring crowds to enjoy the lively strains. Ispani takes in two coastal villages below as part of its municipality: San Cristofor and Capitello.
San Cristoforo is a fisherman's settlement that gives voice to ancient Greek and Rome with women in costume recounting age-old tales during the festa for Ferragosto (Feast of the Assumption) in mid-August. Another element of ferragosto is the Sagra della Cuccia, where large cauldrons are found simmering in the piazza, to serve up the beloved local legume dish. Capitello is Ispani's marina area with a fabulous beach. It was once an important town in the salt trade, which was a commodity of currency. A palm-lined promenade, neat palazzi, and an explosion of flowers make Capitello an attractive resort. At its center is a well-preserved Saracen tower built in the 1500s. An oddity is the church of San Ferdinando Re, built by the Bourbon king who reigned over the Kingdom and Naples and dedicated to himself as a saint.
Been there? Done that? Share your experience and tips!
Haven't visited yet? Have questions about Ispani? Ask them here!
Explore nearby towns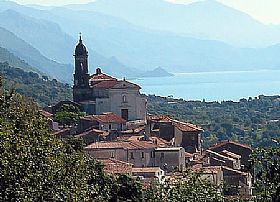 Vibonati occupies a gorgeous spot on the southern end of the Cilento Coast, just before Campania gives way to Basilicata.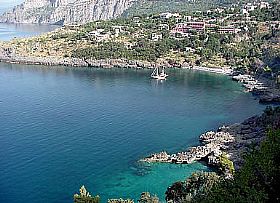 Santa Marina lies at the foot of Mount Tempone in a position that dominates the valley of Bussento and the central coast of the wide Gulf of Policastro, near the southern part of the Cilento and Vallo di Diano National Park.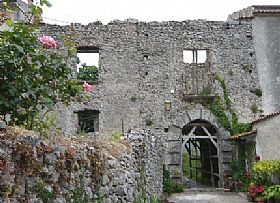 Tortorella is a pretty village perched up the steep hillside from the Gulf of Policastro, in the Cilento National Park.