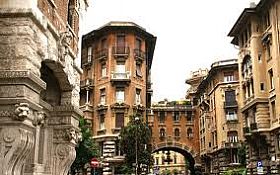 A fascinating neighborhood near Rome's Borghese Gallery, the Coppede district is an architectural fairyland. This tucked-away quarter was designed by Florentine architect Gino Coppede and built between 1921 - 1927. He unleashed his fanciful ideas fully here, incorporating an eclectic blend of styles that creates an oddly harmonious whole.
The villas and apartment buildings are alive with intricate ornamentation, taking inspiration from Imperial Rome, ancient Greece, Byzantine buildings and Roman palaces, all robed in art nouveau with a splash of Baroque, dabbled with modernism and adorned with Gothic gargoyles. Sound bizarre? You have to see it for yourself! The Coppede quarter begins at Via Tagliamento, where a monumental-style arch beckons you to enter the neighborhood. Under the arch is an enormous and intricate wrought-iron chandelier. Just outside it is a niche with a statue of the Madonna with the Christ Child, and a stone engraved with the architect's name. The Piazza Minco is the central point of Coppede, with its classic Roman fountain splashing water from its basins.
Within the district are the embassies for Bolivia and South Africa. The fanciful House of the Fairies is like a neo-Gothic fairytale house found in a children's book illustration, while there are dedications to the cities of Florence on one side and Venice on the other. The apartment buildings are decked out with balconies, loggias, and beautiful wrought iron details, stone carvings, archways, and other touches that will keep you gazing at them in wonder.
Coppede quarter is located a few minutes from the Borghese Gardens, off Via Salaria nd Viale Regina Margherita.
Been there? Done that? Share your experience and tips!
Haven't visited yet? Have questions about Coppede Quarter? Ask them here!
Address in Rome:
Piazza Mincio.