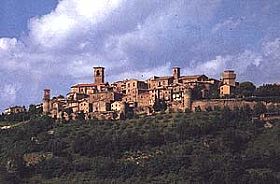 Collepepe is a delightful medieval district situated on top of a hill at 251 metres above the sea level. District of Collazzone, nearby Perugia, it counts 917 inhabitants (accordingly to the last census returns) and is the most populated village within its municipal territory.
This lovely place overlooks the Tiberine Valley, while most of its houses are situated on the plain, touching lightly the river Tevere.
The village is crossed by the highway E45, but is reachable even from Foligno or Spoleto, thanks to "Strada del Puglia" the torrent that splices Collepepe to the town of Bastardo.
Collepepe has always had a notable strategic importance, because of its defensive position for the areas of Perugia, Marsciano and Spoleto. This is the reason why Collepepe has always been contended among Todi, Perugia and Spoleto. In 1290 was already greatly developed and counted 250 inhabitants.
Monuments and places of cultural interest:
Torre del borgo (XIV century), at the entrance of the castle;
Church of St Maria Assunta, within the ancient walls. The church has been renewed many times throughout the ages, with consequent variations of the original look. Inside it you will find two important paintings: "Madonna del Carmine" and "Saints Emanuele and Vito", both dated back at XVIII century and attributed to the artist Emauele Alfani;
Church of "Madonna del Buon Consiglio", just outside the castle. Inside it, you will admire the fantastic fifteenth-century fresco of "Madonna di St Martino";
Le Carceri (I century), a ruin "in locum caementicium" that proofs the presence of the Roman Empire in Late Imperial age. There are some cisterns built in order to gather water, and probably used for the thermal baths of a villa.
Been there? Done that? Share your experience and tips!
Haven't visited yet? Have questions about Collepepe? Ask them here!
Explore nearby towns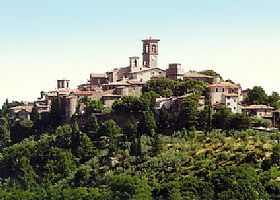 Collazzone is located on top of a 170-metre-high hill, very well connected with Perugia and Terni (10 minutes by car from Marsciano, junction on the E45 highway), and with Foligno and Spoleto (30 minutes by car).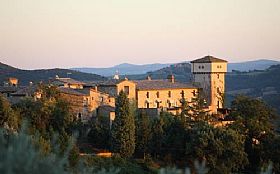 Canalicchio is a magical antique castle-town in Umbria.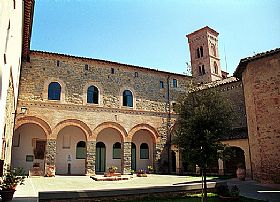 The pretty stone hill town of Deruta lies in the central heart of Umbria, between Rome and Florence.