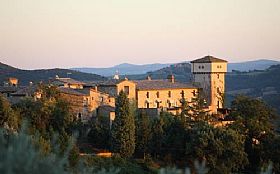 Canalicchio is a magical antique castle-town in Umbria. The charming stone buildings and cobbled streets were built in the Middle Ages, sprouting up around the characteristic Castello di Poggio. The castle itself was constructed in the 10th and 11th centuries by the Longobards as a rural outpost near Perugia. The hilltop position gave it a good vantage point to see potential invaders approaching. The site had been previously inhabited by Benedictine monks, drawn here by the natural beauty and peacefulness of the wooded landscape.
The castle is complete with a Tuscan-style tower and chapel enclosed within protective walls. The village grew around it, and today it's a compact but cute town with flower boxes and pretty panoramas. It perfectly preserves the ancient architecture, and hosts an upscale vacation resort complex and spa. The unspoiled hills offer opportunities for trekking, mountain biking and stream fishing. Every May 1, the town throws a festa known as the Fiaccolata in honor of the patron saint. The interesting event starts with a religious procession and culminates with enormous dry pine trunks being lit afire and the blazing logs being carried through town on the shoulders of the men, then burned in a big bonfire.
Canalicchio is a tiny town with a year-round permanent population of ten! It's part of the town of Collazzone. The village is in the tranquil hills, but is near Perugia, Deruta, Todi, Marsciano and other interesting Umbrian cities.
Been there? Done that? Share your experience and tips!
Haven't visited yet? Have questions about Canalicchio? Ask them here!
Explore nearby towns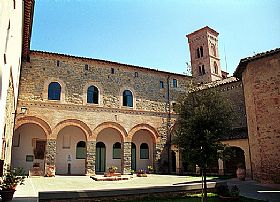 The pretty stone hill town of Deruta lies in the central heart of Umbria, between Rome and Florence.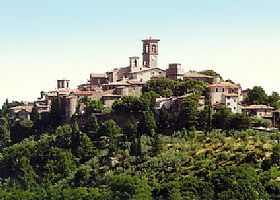 Collazzone is located on top of a 170-metre-high hill, very well connected with Perugia and Terni (10 minutes by car from Marsciano, junction on the E45 highway), and with Foligno and Spoleto (30 minutes by car).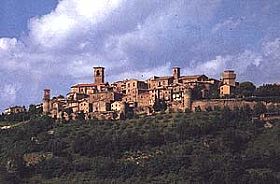 Collepepe is a delightful medieval district situated on top of a hill at 251 metres above the sea level.