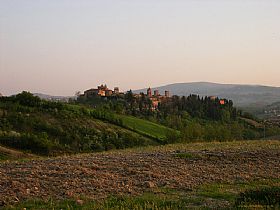 At 50 km from Florence, in the heart of the Valdelsa area, you will find the charming village of Certaldo, whose name derives from the Latin "Cerrus Altus" – rise covered by Turkey oaks.
Historical Outlines
The village around the castle was built because of the extremely fertile soils and the proximity to Via Francigena Nuova (the main road connecting Rome to Northern Europe). From 1164 to 1184 Certaldo governed by Counts Alberti, until 1198, when Florence, prompted by its own hegemonic tendency, imprisoned the Alberti family and subjected Certaldo.
In 1415, the village increased its political, judicial and administrative importance because of the Vicariate (residence of Florentine governors), which included the offices of governors coming from many neighbouring villages.
The Republican and Medicean periods are the most flourishing and thriving for Certaldo: rich Florentine families invested huge capitals in order to improve the cultivations and build magnificent buildings. In 1737, the Lorena's dynasty took the place of Medici and Certaldo slowly lost its importance and prosperity until the beginning of 1900 when, thanks to the railway that connects Empoli to Siena, the economy "got a breath of fresh air".
Today
Certaldo is a fascinating rural centre, favourite tourist destination of many Swiss, Germans and Dutch. The Palazzo Pretorio, or Vicariale, recently restored, displays a picturesque facade adorned with ceramic coats of arms, while the interiors ex are various lovely frescoes dating from the XIII to the XVI century.
Giovanni Boccaccio (famous Italian poet and author, and important Renaissance humanist. Author of a number of notable works including the Decameron and On Famous Women) born and died in Certaldo: you will find a statue of him in the main square, indeed.
The town hosts several festivals every year. The largest and most famous one is Mercantia: a week-long party in Certaldo Alto involving numerous street performers from across Italy, Europe and even America.
Been there? Done that? Share your experience and tips!
Haven't visited yet? Have questions about Certaldo? Ask them here!
Explore nearby towns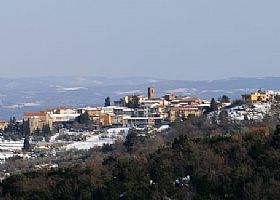 The green Tuscan landscapes of the Val d'Elsa surround the town of Gambassi Terme.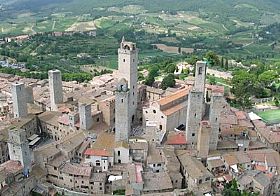 San Gimignano is one of the most famous small towns in Italy.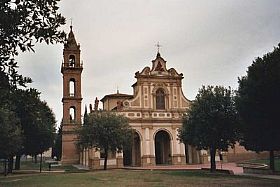 Castelfiorentino is situated in the administrative district of Empoli-Valdelsa, between the Arno River Valley and the northern side of Elsa Valley.