An itinerary to discover the Chianti Region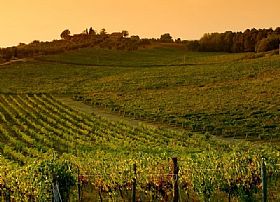 The word Chianti normally makes you think of a precious wine, damp cellars full of barrels and endless expanses of green vineyards. This area is renowned worldwide indeed for the extraordinary wine production, made even more precious by a secular history.
Besides the bottles, this lovely territory can dispense other treasures, revealing itself as attractive even for those who do not want to put themselves in the shoes of a sommelier. You will find superb panoramas, intact medieval hamlet, rustic trattorias, white rural streets, towers, fortresses as well as isolated Romanesque parish churches.
Castellina in Chianti is the starting point of our itinerary into a charming territory which is extensionally limited, but extremely rich in cues for curious tourists. It rises up on top of the popular hills, renowned for good wine and relaxing walks, dotted by castles and cellars. Castellina, along with Greve in Chianti, is one of the biggest and prettiest towns of the area (but keep in mind that the concept of bigness is rather relative: all the towns in Chianti could be walked across in a few minutes). Take one hour for a walk, starting from Via delle Volte, which is the lovely medieval communication trench dating back to the XIV century. From the Romanesque church, you will walk through the ancient walls, that offer splendid hill-views from the loopholes.
Coming out under the open sky, you can come back from Via Ferruccio, flanked with pretty small houses framed by ashlar or linear Serena Stone. If you are interested in seeing the Etruscan findings, then you must go to visit the Archaeological Museum of Chianti Senese (open every day except of Wednesday; from April to October; from 10 am to 6.30 pm).
Before going back to your car, do not miss a flying visit to L'Antica Delizia, to taste a great homemade ice-cream.
From Castellina, follow the National Road SS 222 Chiantigiana, towards Siena, for about 4 Km (2,48 miles), until the fork to Vagliagli-Tregole on the left: the journey now becomes dirt and you must turn rightwards to Vagliagli-Pievasciata. The white alley is a bit tortuous, with some steep (asphalted) stretches and the longest part into the wood.
Once in Vagliagli, after 7 Km (4,35 miles), carry on going rightwards on the main street to Siena, then re-take the dirt patch on your left, towards Pianella (signal). Keep on following the signals to Pievasciata and Pianella, admiring the outstanding panoramas of Siena and the fascinating vineyards into this great digression in the middle of the country.
(If you are keen on contemporary art, do not miss the "Parco Sculture del Chianti", which houses 24 oeuvres made by international artists and perfectly integrated into the surrounding natural environment. Open from April to October , from 10 am to the sunset; in different periods you must book the visit calling at: +39 0577 357 151).
Once arrived in Pianella, turn left to Gaiole-Montevarchi and then rightwards to Castelnuovo Berardenga. After roughly 2Km pay attention to the fork on your left to San Gusmè.
From San Gusmè to Gaiole
San Gusmè is a suggestive mediaeval hamlet, whose piazzas and lanes do worth a visit indeed! Once there, if you fancy tasting some delicious local food go to "Osteria da Sira e Remino", whre we strongly suggest to try pici cacio e pepe or pappardelle with porcini mushrooms. Generous portions and cheap prices
When you feel full and ready to leave, go back towards Siena until the junction, where you must turn right to Gaiole: 7,5 Km (4,66 miles) of winding woody road will bring you to the splendid Castle of Brolio (open to be visited every day from 9 am to 12 am, and from 3 pm to 7 pm. Nearby the Castle you will find the winery Barone Ricasoli, for a wine tasting tour). The Castle is incredibly rich in history: here in fact the "Iron Baron" Bettino Ricasoli (who has been Prime Minister of Italy after Cavour) defined the first formulation of Chianti Classico.
The majestic castle, dating back to the X century and surrounded by a thick English-style wood, still belongs to the powerful Ricasoli family (rich family of great feudatories united to Florence). The main terrace's front offers a stunning large view, covering even Siena and Mount Amiata. Its imposing walls, 450 metres (492 yards) long and 14 metres (15 yards) high, hold the most ancient stone constructions, such as the quarterdeck with the towers and the ancient red bricks country building. You will see another fairy-tale castle in Meleto: from the fork to Brolio you have to carry on rightwards to Gaiole, reaching the main National Road (SS 408) after 5 Km (3,11 miles), where you must turn right again. After 2 Km (1,24 miles), the road forks: follow the signals to Gaiole and, after a few metres, the signals on the right to Monteluco and Meleto.
The castle is wonderfully located onto a panoramic hillock, defended by an impressive cylindrical tower and the XV-century walls. The splendid estate extends itself for more than 1000 hectares (2,471 acres), of which 180 destined to be cultivated. You will then arrive to Gaiole (not far from Bucine, Badia Agnano and Castelnuovo Berardenga) ideal stopping point for a break: the pedestrian main street offers dozens of bars and restaurants where to get an aperitif and relax at list for a short while.
Second day: Visit Badia di Contibuono, that used to be a flourishing abbey between the XI and XII century (the bell-tower dates back to 1160). The building is characterized by a Latin cross plan with a semicircular apsis and cupola, decorated with late baroque frescoes and a XVIII-century vault. Every Tuesday, Wednesday, Friday, from May to October at 11 am, starts a very interesting guided tour, including the visit at the garden, the frescoed refectory, the courtyard and the lovely cellars (the ticket costs 12 Euros, with wine tasting – 5 Euros without tasting). After Badia di Contibuono you can greatly continue you day with a lovely walk among the narrow alleys of Radda: marvellous mediaeval hamlet, with a XIV-century path where to breath an ancient atmosphere in Piazza Verrucci. There you will find the town-hall, decorated with coat of arms, the church and pretty fountain.
Once ready to go back to your car, you should run a few kilometres towards Castellina, then turn right taking the Chiantigiana, towards Greve. This enchanting road goes down to the hills, ending onto immense expanses of vineyard, spotted with incredible estates. The street goes up for a short while into the wood, then follows a mesmerising route all along the hillside with gorgeous panoramas, until Panzano. 1 Km (0.62 miles) before the village of Panzano, there is a fork rightwards to the parish Church of St Leolino, indicated by a very small signal.
A narrow slope will take you to the Romanesque Church dating back to the XII century, wextremely suggestive even for its special location, overlooking the surrounding mountains: the view is breathtaking! The church keeps inside two glazed earthenware ciboria attributable to Giovanni della Robbia.
Arrived in Panzano, go to the historical centre and the main piazza to visit the ancient shops, then follow the signals to Mercatale. This secondary road bends several times, with frequent views of the country; after 5 Km (3.11 miles) you will reach a crossing, then turn right to Grave. The road now dives onto the stunning fortified hamlet of Montefioralle. This is the perfect place to relax yourself, with a nice walk among the streets, anciently paved with porphyry blocks, and those fantastic houses which look behind the times. If the good local air has whetted your appetite, got to Taverna del Guerrino, for local genuine dishes, such as panzanella, rosticciana and "Chianina" beef steak.
From Montefioralle, the street goes down for another Kilometre to Greve: at the end of the steep descent carry on the right to the centre, parking along the road.
In a short while you will reach walking Piazza Matteotti, with the bronze statue dedicated to the famous navigator Giovanni da Verrazzano (born in 1585 into the homonym castle nearby the village), who discovered the bay of New York, in 1524. Greve in Chianti is an incredibly charming place, surrounded by yellow and white houses and porticoes, holding dozens of ancient artisan shops along with some restaurants.
Basically you can eat well everywhere, but if you are looking for a quiet place (without rowdy tablefuls of tourists) to taste delicious local food at a lower price, go to "enoteca Fuoripiazza".
Been there? Done that? Share your experience and tips!
Haven't visited yet? Have questions about An itinerary to discover the Chianti Region? Ask them here!